Houston & Atlanta Rolls Out the Red-Carpet for "BLINK" The Movie
Courtney Glaude's New Movie, Blink, Is A Powerful Look at the Psychology Behind Domestic Violence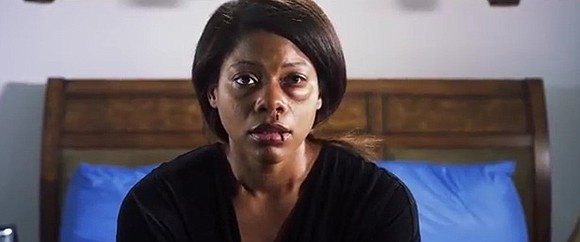 (HOUSTON, FEB.9, 2018) -Blink, the movie from filmmaker Courtney Glaudé will be premiering in select AMC theatres in Houston and Atlanta from March 2nd through March 8th. Houston rolls out the red carpet with an exclusive red carpet on March 2nd at 7:30 pm at The AMC Studio 30 Dunvale while Atlanta Rolls out the red carpet on March 3rd at AMC Campcreek Theatre
1 in 3 women and 1 in 4 men have been victims of [some form of] physical violence by an intimate partner within their lifetime," according to the National Coalition Against Domestic Violence. The new film Blink, by filmmaker Courtney Glaudé is looking at why this happens and what can be done to prevent it.
Blink is Courtney's first feature length film on the heels of being awarded Best Short Drama Film in 2017 by the Los Angeles Short Film Festival for film, Row. Blink will follow Nailah Belle as she faces constant domestic abuse from her husband Chris. On the surface, Nailah and her partner Chris maintain the facade of an immaculate life and relationship. However, a deeper look shows that everything is not as it appears. Nailah's class doesn't suspect that Chris physically and verbally abuses her in the unattainable pursuit of perfection. The film explores domestic violence and the psychology behind abuse.
Courtney is no stranger to abuse and bullying when he grew up in Houston's 5th ward. In order to endure the abuse, he would escape to his imagination which is what propelled him into becoming such a compelling storyteller.
Blink is already receiving a resounding response both with local and national viewers, with Glaudé appearing as a guest on Great Day Houston, airing Feb. 2 at 9 a.m. CT. Glaude has also been chosen as a keynote speaker for indie film conferences and schools across the southern region.
"It's such an honor for me to share my creativity with the world," said Glaudé. "I can't wait for more people to see what we've created with Blink." With Blink, Glaudé brings his passion for filmmaking to the next level.
Courtney is available for interviews regarding the Domestic Violence Topic, the filmmaking process and more. Schedule your interview with this industry dynamo today.
Blink will play at select AMC Theaters throughout Houston and Atlanta, March 2-8.