Graphene On Toast, Anyone?
Rice University scientists create patterned graphene onto food, paper, cloth, cardboard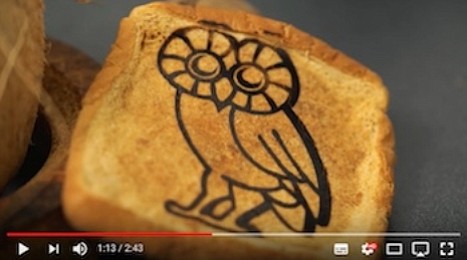 "We also found we could take bread or paper or cloth and add fire retardant to them to promote the formation of amorphous carbon," said Rice graduate student Yieu Chyan, co-lead author of the paper. "Now we're able to take all these materials and convert them directly in air without requiring a controlled atmosphere box or more complicated methods."
The common element of all the targeted materials appears to be lignin, Tour said. An earlier study relied on lignin, a complex organic polymer that forms rigid cell walls, as a carbon precursor to burn LIG in oven-dried wood. Cork, coconut shells and potato skins have even higher lignin content, which made it easier to convert them to graphene.
Tour said flexible, wearable electronics may be an early market for the technique. "This has applications to put conductive traces on clothing, whether you want to heat the clothing or add a sensor or conductive pattern," he said.
Rice alumnus Ruquan Ye is co-lead author of the study. Co-authors are Rice graduate student Yilun Li and postdoctoral fellow Swatantra Pratap Singh and Professor Christopher Arnusch of Ben-Gurion University of the Negev, Israel. Tour is the T.T. and W.F. Chao Chair in Chemistry as well as a professor of computer science and of materials science and nanoengineering at Rice.
The Air Force Office of Scientific Research supported the research.