Houston Ebony Opera Guild Presents 27th Annual African American Music Gala
Concert to feature rarely heard works by W.C. Handy and other Black composers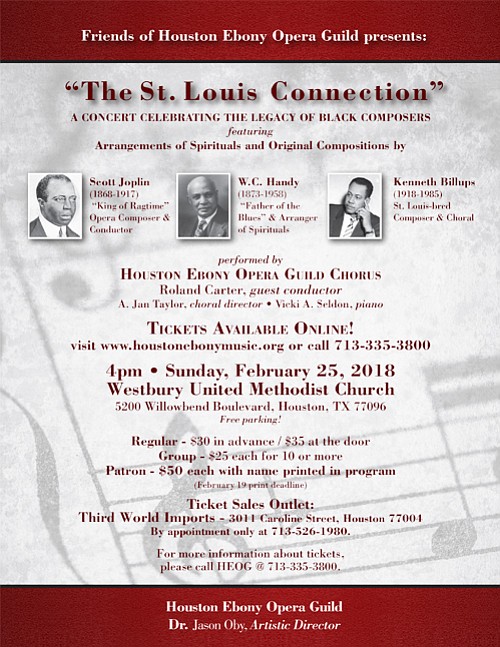 For 27 consecutive years, the Houston Ebony Opera Guild Chorus has presented its ANNUAL AFRICAN MUSIC GALA: A CONCERT OF WORKS BY BLACK COMPOSERS.

Highlights will include rarely performed arrangements of Spirituals and classical art songs by W.C. Handy who is best known as "Father of the Blues;" selections from Treemonisha, the opera by Scott Joplin, and choral works by St. Louis-bred Kenneth Billups. Guest conductor Roland Carter returns to conduct the Houston Ebony Opera Guild Chorus and soloists in this performance.
The concert, ANNUAL AFRICAN AMERICAN MUSIC GALA, will be held at 4 p.m. Sunday, February 25, 2018 at Westbury United Methodist Church, 5200 Willowbend Blvd., Houston 77096. Tickets are available at houstonebonymusic.org.
or by calling 713-335-3800. Ticket prices options:
• $30 in advance/$35 at the door;
• group rate of $25 each for a group of 10 or more persons.
For additional information, call 713-335-3800 OR visit houstonebonymusic.org.