Library to Host Screening of "4 Little Girls" and Conversation with U.S. Sen. Doug Jones
Honoring African-American History Month, America's Film Heritage and the Civil Rights Movement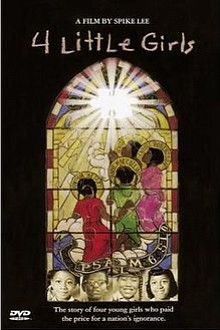 The Library of Congress Feb. 27 will host an evening program about the 1963 16th Street Baptist Church bombing in Birmingham, Alabama. Librarian of Congress Carla D. Hayden will join United States Senator Doug Jones (AL) for a special conversation about this seminal and tragic event in civil rights history, followed by a screening of the Spike Lee documentary "4 Little Girls."
The conversation will be held at 6 p.m. in the Coolidge Auditorium on the ground floor of the iconic Thomas Jefferson Building, 10 First St. S.E., Washington, D.C. The event is free and open to the public, but tickets are required and there may be special restrictions. For more information and to secure tickets, visit this event ticketing site: https://www.eventbrite.com/e/screening-of-four-little-girls-and-a-conversation-with-sen-doug-jones-tickets-43402598340.
The event will also be livestreamed on the Library's Facebook page at facebook.com/libraryofcongress and its YouTube site (with captions) at youtube.com/LibraryOfCongress. On display will be items from the Library's collections and archives connected to the bombing of the 16th Street Baptist Church.
Jones was elected to represent the state of Alabama in a special election held Dec. 12, 2017. He began serving in the 115th Congress on Jan. 3, 2018. Prior to serving in Congress, Jones was a U.S. attorney for the Northern District of Alabama from 1997 to 2001. It was while serving in this position that Jones successfully prosecuted two of the four men responsible for the 16th street bombings after more than 30 years.
The film "4 Little Girls" (1997), directed by Lee, was added to the Library of Congress National Film Registry in December 2017. The film is an important documentary concerning America's civil rights struggle and revisits the horrific story of the young children who died in the firebombing of the 16th Street Baptist Church. Lee first became interested in the story as a student at New York University when he read a 1983 New York Times Magazine article by Howell Raines. Lee combines his experience in fiction filmmaking with documentary techniques, sensitively rendered interviews, photos and home movies to tell the story. The timing of this production was important due to the ages of the key witnesses and relatives and the need to refresh viewers' memories regarding this episode in U.S. history.
The National Film Registry selects 25 films each year showcasing the range and diversity of American film heritage to increase awareness for its preservation. Under the terms of the National Film Preservation Act, each year the Librarian of Congress names to the National Film Registry 25 motion pictures that are "culturally, historically or aesthetically" significant. The films must be at least 10 years old. More information about the National Film Registry can be found
The Library of Congress is the world's largest library, offering access to the creative record of the United States—and extensive materials from around the world—both on-site and online. It is the main research arm of the U.S. Congress and the home of the U.S. Copyright Office. Explore collections, reference services and other programs and plan a visit at loc.gov; access the official site for U.S. federal legislative information at copyright.gov; and register creative works of authorship at copyright.gov.