Petersen Automotive Museum to Exhibit 1952 Ferraru Barchetta at 23rd Annual Keels & Wheels Concours d' Elegance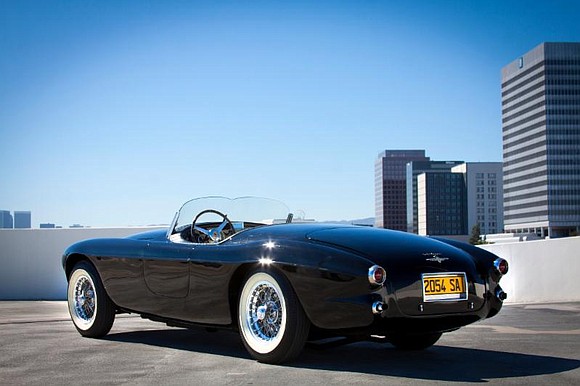 Seabrook, TX (February 22, 2018) - The 23rd Annual Keels and Wheels Concours d'Elegance, benefiting Today's Harbor for Children, formerly known as Boys & Girls Harbor, has revealed one of the entries for the event slated for Saturday and Sunday, May 5-6, 2018 at the Lakewood Yacht Club in Seabrook, Texas.
The 1952 Ferrari 212/225 Barchetta by Touring Superlegerra will be exhibited at the Concours by the Petersen Automotive Museum, Los Angeles, California. The car is the last Ferrari Barchetta (Italian for "little boat") ever built and the last non-racing Ferrari bodied by Touring.
It was ordered by the Ford Motor Company in the name of Henry Ford II and delivered new with a three-carburetor 225 engine and left-hand drive. Soon after delivery, Henry showed the car to a member of the Firestone family who said, "this car needs whitewalls", and he then had a set of Firestone 500 whitewalls specially made for it.
The rare Barchetta was one of the European sports cars evaluated by Ford stylists during the development of the Thunderbird and it is believed to have inspired a number of 1955 Thunderbird design features, including the egg crate grille, headlight brows, and overall productions. Having traveled less than 13,000 miles since new, it has never been restored and retains its original paint and numbers-matching engine. The Ferrari Barchetta is part of a collection at the Petersen Automotive Museum in Los Angeles as a gift of the Margie and Robert E. Petersen Foundation.
The annual weekend-long, nationally acclaimed classic car and vintage wooden boat show takes place each spring at the Lakewood Yacht Club in beautiful Seabrook, TX and attracts more than 15,000 attendees. The car and boat exhibitors come from every part of the United States, as do the spectators.
The features for the 23rd Annual Keels & Wheels Concours d'Elegance include the marques of Ferrari, Pierce Arrow, and Super Cars. This year, the event will also honor Classic Wood and Fiberglass Boats.
This event is made possible with the support from title sponsors, City of Seabrook and Bay Area Regional Medical Center.
Invitations and entry forms for the 2018 Keels & Wheels event are available online and must be submitted no later than March 9, 2018. Because only 200 automobiles and 100 boats will be selected, it is important for submissions to be made as early as possible. Potential exhibitors are asked to submit one photo of the car or boat, along with year, make, model, owner information and a brief history of the entry. Keels & Wheels does not typically consider any automobiles newer than 1974 for entry in the event.
For more information about submitting your classic automobile or antique boat, or to download an entry form, please visit www.keels-wheels.com or follow us on Facebook and Twitter.
PRICE:
$30 General Admission if purchased online in advance,
$40 General Admission ticket at the gate per person
Kids 10 and under are free
Tickets may be purchased at Keels-Wheels.com or by calling: 713-521-0105