A Tribute to Billy Graham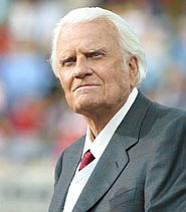 by Dr. Gary S. Smith
Overstating the significance of Billy Graham is difficult. Arguably the most important religious leader of the 20th century, Graham presented the gospel to an estimated 215 million people through his many evangelistic campaigns around the world and to hundreds of millions more through radio, television, satellite broadcasts, print, and the internet. The pastor to presidents, Graham served as a spiritual advisor to chief executives from Dwight Eisenhower to George W. Bush. As depicted in an episode of the Netflix miniseries, "The Crown," Graham also provided spiritual counsel to Queen Elizabeth II of England.
Graham helped launch three major enterprises—the Billy Graham Evangelistic Association, "Christianity Today" magazine, and Youth for Christ, a ministry to high school students. He helped shape numerous evangelical colleges, seminaries, and parachurch organizations including World Vision, World Relief, and the National Association of Evangelicals. Graham also worked to bring the global Christian community together and to promote evangelistic efforts through international conferences held in Berlin, Lausanne, and Amsterdam.
Graham was as close being to a national pastor as the United States has ever had. He spoke at Richard Nixon's funeral in 1994, prayed at the inaugurations of five presidents, at a memorial service following the 1995 Oklahoma City bombing, and at a service in the National Cathedral in Washington, D.C. for victims of the September 11, 2001 terrorist attacks, and preached to survivors of Hurricane Katrina in 2006.
Throughout American history revivalists have helped win countless individuals to Christ. Graham followed a pattern established during the antebellum Second Great Awakening by Charles Finney—and continued by Dwight Moody in the Gilded Age and Billy Sunday in the early 20th century—of holding evangelistic meetings for a week or more in major cities. Modern technology enabled Graham to proclaim the Christian message of salvation to many more people than any other preacher in history. Unlike his predecessors, Graham also held campaigns in metropolitan areas around the world, including many behind the Iron Curtain before the fall of communism. Moreover, Graham spread God's word through his "Hour of Decision" global radio program and numerous prime-time television specials.
Among the three million converts Graham's preaching produced are John Guest, a founder of the Coalition for Christian Outreach and the rector of two major Pittsburgh congregations, and Louis Zamperini, the protagonist of the book and movie "Unforgiven."
Many lesser known individuals also came to Christ through Graham's campaigns. Consider one example. In 2008 my wife and I spent three weeks in Romania volunteering with a ministry called "Least of These," which had worked for 15 years to help orphans and Gypsies. We stayed with a Romanian couple; the wife, Ramona, directed the ministry, and her husband Ghita, pastored a church. Surprisingly, Nicolae Ceaușescu, one of communism's most brutal dictators, permitted Graham to hold a week-long crusade in Romania in June 1985. Growing up in Romania, Ghita knew nothing about Christianity, but he was intrigued by a billboard he read advertising the campaign and decided to attend. As he heard Graham preach, God tugged at his heart, and Ghita responded to the altar call and accepted Christ as his savior. His commitment to Christ led him to study at a Bible school and go into the ministry to advance the gospel in Romania.