Thurgood Marshall School of Law Second-year Students and Experiential Learning Department Lauded for Their First-place Finish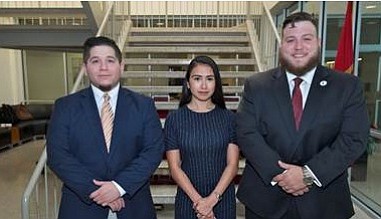 (February 27, 2018 – Houston, TX) Students from Thurgood Marshall School of Law (TMSL) recently competed in the American Bar Association (ABA) Regional Client Counseling Competition that took place at the University of Arkansas School Of Law. TMSL was represented by second year law students, Eleazar Maldonado Jr. and Daniel Chavez, pictured above. The team was coached by Professor of Law and Director of L.L.M. & Immigration Development, Fernando Colon-Navarro. TMSL competed against 11 other law schools from across the nation.
Before Mr. Maldonado and Mr. Chavez had the honor and opportunity to represent TMSL in the ABA regional competition, they competed in and won the in-school competition, hosted by the TMSL Board of Advocates (BOA). In the on-campus competition, Ms. Anabel Maldonado, above center, served as the client for the team.
The Client Counseling Competition via the Experiential Learning Department and headed by TMSL Associate Dean Stephanie Ledesma is one of many ways that TMSL works to inculcate professionalism and provide students training in practical skills that they will be expected to not only be competent in, but have mastered prior to entry into the legal profession. During the Client Counseling Competition,
students are judged on their active listening skills, critical thinking skills, critical analysis skills, and effective communication and persuasion skills. Students are also expected to effectively interview Thurgood Marshall School of Law second-year students and experiential learning department lauded for their first-place finish their clients while gathering key facts and advising their clients through each step of the process.