Kushner, Russia Bombshells Rock the White House
CNN. com | 2/28/2018, 9:08 a.m.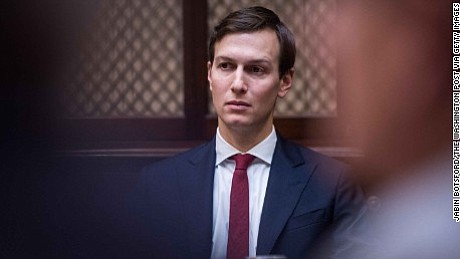 Washington (CNN) A volley of stunning revelations over Jared Kushner and the Russia probe are rocking Donald Trump's inner circle and suggest a pivotal moment is at hand in the West Wing personnel wars that have raged throughout his presidency.
First, it emerged Tuesday that chief of staff John Kelly downgraded the top secret security clearance for the President's son-in-law in a bid to clear up a scandal over whether top administration players are qualified to access the most sensitive intelligence.
Then, The Washington Post published a bombshell report that at least four countries had discussed how to use Kushner's sparse experience, financial troubles and intricate business arrangements to manipulate him.
Hours later, CNN reported that special counsel Robert Mueller is asking questions about Trump's business dealings with Russia before the President's campaign, a potentially significant development in the investigation.
The triple blows at Trump's inner circle added to the already incredible personal, political and legal pressure heaped on the President and the strain on those staffing his turbulent presidency.
They come at a moment when Mueller's probe is gathering pace, cranking out indictments of Trump associates, and appears to be posing a more severe threat to the President, Kushner and other important associates.
The developments were more than a personal and public humiliation to Kushner, who has played an influential, if mysterious, role in the administration.
They put the sustainability of his role as a top foreign policy adviser to Trump in doubt because he will have access to far fewer government secrets and cannot see the Presidential Daily Brief, the collection of the spy community's treasures prepared for the commander in chief.
The downgrade appears to make it all but impossible for Kushner to do his job even though the White House and his lawyer say that is not the case.
But how for example can he carry out his duties running the Middle East peace process or liaising with top Gulf powers if he is not privy to the latest intelligence about his interlocutors or other key regional players like Iran?
Similarly, Kushner could find himself asked to leave sensitive meetings in the White House or force top intelligence or foreign policy officials to avoid the most sensitive subjects in meetings that he is in with the President.
"He can't see intercepted communications -- that's top secret, he's now downgraded to secret ... he can't see the most secret CIA information about their informants," said Phil Mudd, a former CIA and FBI official who is now a CNN national security analyst.
"He can't see some of the stuff our Western allies see," he added.
Ultimately, unless Kushner is cleared by the FBI to receive a permanent security clearance or gets a waiver from the President his diminished role will spur fresh speculation about his longevity as a White House staffer.
His departure and potentially that of his wife Ivanka Trump, who just controversially led a US mission to South Korea's Winter Olympics at a time of flaring nuclear tensions with North Korea, would mark a huge earthquake in Trump world.