Paris Texas Apparel Co. Expands and Relocates to New Storefront in Tanglewood Area
Housed in the Woodway Collection shopping center, the store will more than double in size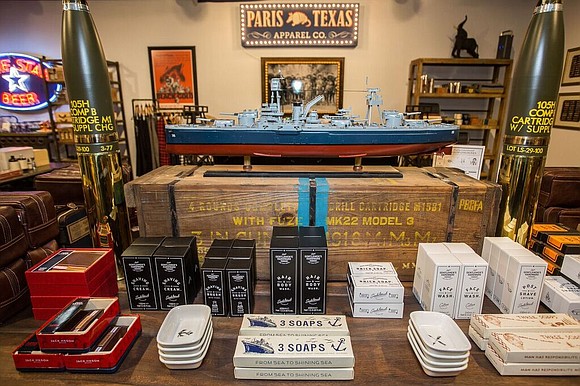 HOUSTON, TX — Locally owned and operated store Paris Texas Apparel Co. is moving to an expanded new storefront at 1341 S Voss Road, which is slated to open to the public on March 23, 2018. At more than 2,700 square feet, the new location is more than double the size of the original brick-and-mortar location in Memorial. The brand originally launched in 2012 as a digital retailer that quickly became well-known for its Texas-themed silk neckties and bowties, and since establishing a physical storefront in 2016, it has become a go-to shop in Houston for ready-to-wear guayaberas, Southern-inspired home goods, barware, luggage, cufflinks, leather goods, graphic tees, and collegiate-themed gifts.
After several years of tremendous growth, CEO Paul Hotze is thinking long-term with the design of this space, and aims to visually establish the brand with the new storefront. Hotze plans to anchor the space with a glass-encased, hand-made diorama of the Alamo, showcasing the same rustic-industrial charm that the brand has become known for. Paris Texas Apparel Co.'s signature typographic prints – glorifying famous Texas battle cries, images, and quotes – will adorn the walls, and masculine accents like vintage battleship and car models will be featured as in-store displays. The customer-beloved Lone Star Beer and San Cristobal neon signs will make the move to the new location, joined by a custom wall mural designed by Paris Texas Apparel Co's graphic artist. While there are no immediate plans for expansion, this concept will be the model when they are ready to grow.
"We've worked to curate a unique collection of products from across Texas and The South to ensure that our customers have a one-of-a kind experience while shopping at our store," says Paul Hotze, CEO of Paris Texas Apparel Co. "That isn't changing, we're just movin' down the road. Like they say, 'everything's bigger in Texas,' and that includes our new location. This expansion wouldn't be possible without the love and support we've received from our fellow Houstonians and Texans."
Replacing the current shop on Wirt Road, the new storefront is just a few miles south in the Woodway Collection shopping center at the intersection of Voss and Woodway. The store will be in good company, nestled between the MEMO Soul Cycle and Boardroom Salon for Men, and near retailers like Blue Mercury, Whole Foods Market, and Lily Rain, not to mention Houston favorites like Buffalo Grille and The Original Carrabba's. Paris Texas Apparel Co.'s new store hours will be: Monday through Saturday from 10 a.m. to 7 p.m., and Sunday from 12 p.m. to 5 p.m.