The Conrad O. Johnson Music and Fine Arts Foundation Presents "Let the Children Play" A Tribute to Music Educators & Icons Scholarship Luncheon
Honoring Ezra Charles ■ Archie Bell ■ Dr. Aubrey Tucker Musical Guest Appearances by Eloise Laws ■ Joe Carmouche ■ Kyle Turner ■ Imaj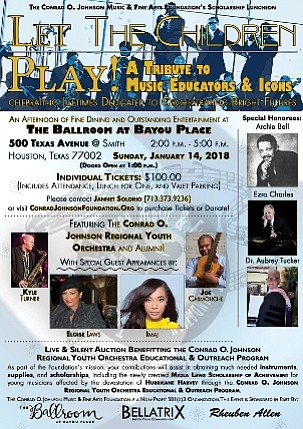 The Conrad O. Johnson Music and Fine Arts Foundation presents "Let the Children Play" A Tribute to Music Educators & Icons Scholarship Luncheon on Sunday, January 14, 2018, 2:00 p.m. – 5:00 p.m. at The Bayou ( 500 Texas Ave., Houston, Texas 77002). During the event, Ezra Charles, Archie Bell, and Dr. Aubrey Tucker will be honored. Musical guests scheduled to appear are Eloise Laws, Joe Carmouche, Kyle Turner, and Imaj. This star–studded extravaganza will provide the following goals of the Conrad O. Johnson Music and Fine Arts Foundation's mission:
· Provide contributions to the music students and families affected by the devastation of Hurricane Harvey through the Music Instruments Acquisition Program.
· Provide Annual academic scholarships to the student recipients, including the inaugural 'Miola Laws Scholarship of Achievement.'
· Provide an opportunity for the Houston community to reinvest in local aspiring young musicians to become the best in their chosen genre.