Join Rep. Garnet Coleman for the 22nd Annual MLK Day Celebration at the Houston's Children Museum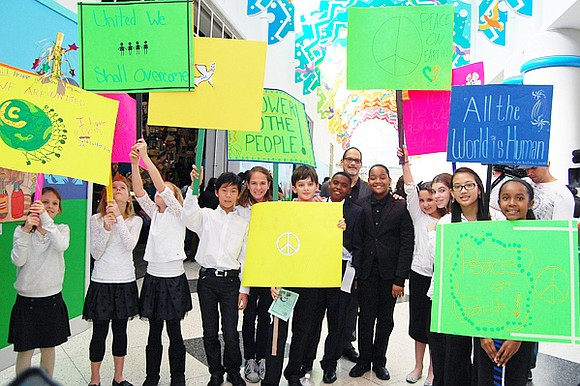 Dr. Martin Luther King, Jr. dreamed for us to live in a world where we would "not be judged by the color of [our] skin, but by the content of [our] character." Join Representative Garnet Coleman and the Children's Museum of Houston in honoring civil rights leader, Dr. Martin Luther King, Jr., and his legacy during the 22nd MLK Day Annual Celebration.
WHAT:
22nd Annual MLK Day Celebration at the Houston's Children Museum
WHEN:
Jan. 15: Martin Luther King, Jr. Day
Special events begin at noon
WHERE:
Houston Children's Museum
1500 Binz St, Houston, TX 77004
DETAILS:
$5 general admission
ACTIVITIES:
Dream of a World: How would you change the world? Lend a helping hand with this MLK Day inspired art creation at Alexander Art Academy.
Reduce Reuse Recycle: Learn how to make the world a better place by learning important disposal lessons in a fun sorting game at EcoStation.
Texas Endangered Species Postcard: Help the environment by making an endangered postcard to share with friends and family at EcoStation.
Matchbox Microphone: Assemble a working microphone and learn about the contribution inventor James West made at Science Station.
Dream Clouds: Share your dreams of changing the world at Junktion.
Peace Doves: Create a world symbol of peace at Junktion.
Star Promise: Take the pledge to be kind and fair at Junktion.
Martin Match: Create a heart tessellation so that you can share it with the world at Math Cart.
Starch Testing: Discover the importance of starch in your diet and test for its presence in common household items at Power Science Lab.
Neutralization Reaction: Observe a neutralization reaction and learn how our body's digestive system works at Power Science Lab.
Cabbage Chemistry: Find out how to test the liquid in a cabbage for pH levels at Power Science Lab.
DNA Extraction: Learn about the building blocks of life and DNA extraction at Power Science Lab.
*Activities, events and times subject to change.