GoFundMe: Frederick Joseph Launches the #BlackPantherChallenge to Take Kids to See Black Panther in Theaters
After raising $30,000 on GoFundMe, Joseph launches national challenge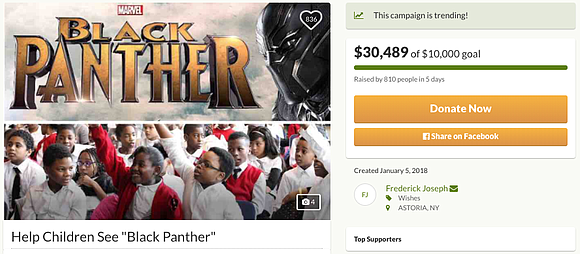 Redwood City, California | January 10, 2018 — New York resident Frederick Joseph launched a GoFundMe to take Harlem children to see Black Panther in theaters next month. In just a few days, he raised over $30,000. Today, he announced the #BlackPantherChallenge to ask others to start a GoFundMe in their community to take more kids to watch Black Panther in the theater.
"All children deserve to believe they can save the world, go on wild adventures, or accomplish the impossible. Today I am announcing the #BlackPantherChallenge. I am challenging you to start a GoFundMe to buy tickets for kids in your city to see Black Panther," wrote Joseph on his GoFundMe. "If you're a teacher, buy tickets for your entire classroom. If you're a coach, take your team. If you're a community leader, do some organizing and get the kids and parents in your community to the theater."
10 campaigns that answer the #BlackPantherChallenge will receive a $100 donation from GoFundMe. To take up the challenge, start a GoFundMe by clicking here.
To date, Joseph's campaign has raised over $30,000 from 760 donors from all 50 states. Donations have ranged from $5 to $10,000.