PepsiCo Kicks Off "Game Day Grub Match: Athlete Face-Off" Challenging Football Stars To Cook Up Winning Game Day Dishes
Digital Content Series Features Greg Jennings, Nick Mangold and Rashad Jennings Battling in the Kitchen before a Celebrity Chef Judging Panel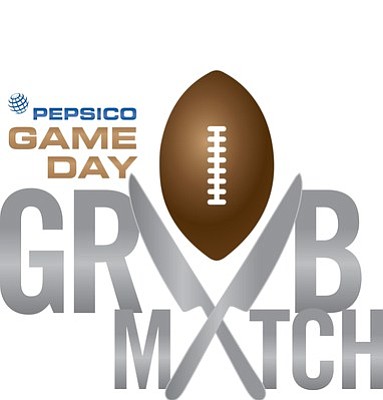 PURCHASE, N.Y, Jan. 10, 2018 /PRNewswire/ -- Three former NFL greats are back in the limelight – not on the field, but in the kitchen, as part of PepsiCo's (NASDAQ: PEP) Game Day Grub Match.
Game Day Grub Match logo
The three retired stars – Greg Jennings, Super Bowl champion wide receiver and two-time Pro Bowler; Nick Mangold, seven-time Pro Bowl center for the New York Jets; and Rashad Jennings, running back and Dancing with the Stars winner – showed off their cooking skills and battled for the champion title in PepsiCo's culinary competition.
The athletes were challenged to prepare game day dishes using PepsiCo food and beverage products as ingredients – from Doritos to Tropicana, Sabra hummus to Naked Juice, Tostitos to Quaker Oats. The three-episode competition, which was designed and brought to life by PepsiCo in collaboration with Vox Media, owner of SB Nation and Eater, and their in-house content studio, Vox Creative, can be viewed at www.GameDayGrubMatch.com , starting today.
Game Day Grub Match was hosted by Kay Adams of NFL Network's Good Morning Football and the cook-off was judged by an all-star tasting panel comprised of Celebrity Chefs Anne Burrell and Josh Capon, as well as PepsiCo Executive Chef Stephen Kalil.
The winning athlete's dish will be featured on the Buffalo Wild Wings menu at Mall of America in Minneapolis during Super Bowl LII weekend. The athletes each incorporated a Buffalo Wild Wings sauce into a wing challenge featured in the final episode. PepsiCo will also provide a $25,000 donation to Taste of the NFL's Kick Hunger Challenge to benefit a local food bank in the city of the winning athlete's choice. As part of the program, PepsiCo and the PepsiCo Foundation are once again sponsoring Taste of the NFL's "Party with a Purpose," a charity event that raises money and awareness for the fight against hunger.
One lucky fan will also have a chance to be part of the action. Through January 15, consumers are encouraged to visit www.GameDayGrubMatch.com and enter a 60-second video about why they deserve to be the PepsiCo Super Bowl LII Social Correspondent and win a trip for two to Minneapolis for the big game. The winner will post about their on-the-ground experiences during Super Bowl weekend on SB Nation's social handles.
"PepsiCo's snacks and beverages have been staples of Super Bowl parties for decades and Game Day Grub Match takes it to the next level, bringing the worlds of food and football together in a really fun way," said Chef Kalil. "The athletes brought their A-game to this competition and I was really impressed at what they cooked up – especially under the pressure of a time clock and heckling judges like me!"
The Contestants… and their Dishes
The contestants competed in three challenges, each chronicled in one of the Game Day Grub Match episodes:
Episode One: Hometown Challenge
Greg Jennings: Sweet and Tangy Brat Sandwiches with Lay's Kettle Cooked Jalapeno Potato Chips
Nick Mangold: Crunchy Fritos-Chorizo Bacon Chili
Rashad Jennings: Bison Juicy Lucy made with Quaker Oats and Tostitos Queso