WEtv Presents Exclusive Season 2 of Growing Up Hip Hop: Atlanta With Cast Q&A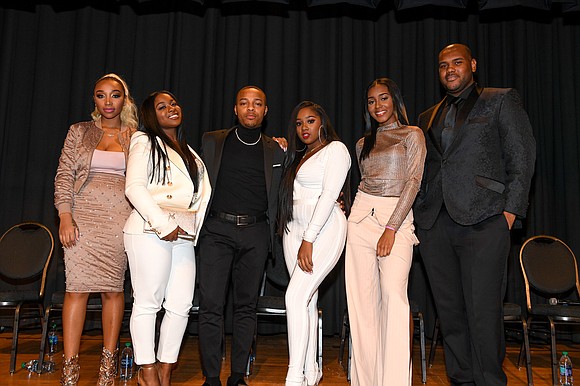 ATLANTA, GA - On Tuesday, January 9th, WEtv presented the first episode of Season 2 of hit show Growing Up Hip Hop: Atlanta presented by star Bow Wow, who introduced the episode to a jam-packed house at the Woodruff Arts Center's Rich Theater in Midtown Atlanta. Co-stars Reginae Carter, Zonnique Pullins, Brandon Barnes, Shaniah Mauldin and Ayana Fite were also in attendance, joined by supporting cast members Jermaine Dupri, Deb Antney, Da Brat and newcomer singer Jhonni Blaze, who appeared as a guest on season one. The star-studded event saw music and TV luminaries including fellow WEtv stars Alana "Honey Boo Boo" Thompson and her mother "Mama" June Shannon; Towanda and Trina Braxton; and "LA Hair" star Gocha Hawkins; along with "Real Housewives of Atlanta" stars Cynthia Bailey and Kenya Moore; super-producer Bangledash, actors Demetria McKinney and Brad James (from SyFy's "Superstition"); singers Damion Hall (Guy) and Daron Jones (112) and more.
Following the screening the Growing Up Hip Hop: Atlanta cast gave the audience insight into the upcoming season with a Q&A, moderated by Gary with Da Tea from the Rickey Smiley Morning Show. While avoiding any spoilers, the cast revealed that Season 2 is all about their growth as individuals, particularly for Reginae and Shaniah establishing themselves beyond their famous parents' careers; and professionally, with Bow Wow and Zonnique working on new music; Brandon developing two new R&B groups; and Ayana developing her clothing line. The cast also hinted at a focus on exploring past issues between Bow Wow and mentor Jermaine Dupri; and Zonnique and Reginae, who are working to recreate the bond they once shared.
After the screening, the Growing Up Hip Hop: Atlanta stars and their guests headed to new Atlanta nightspot Revel, where they recreated a vibe worthy of JD's hit "Welcome to Atlanta" with music by DJ Infamous. The near-capacity party crowd included a few more recognizable faces with "Love & Hip-Hop: Atlanta" stars Erica Dixon and Estelita; producer Mr. Hanky; rapper Silento and more coming out to celebrate the show's new season.
Growing Up Hip Hop: Atlanta returns to WEtv on Thursday, January 11, 2018 at 9pm.