D.L. Hughley Shoots Straight on Police, Mark Fuhrman and Racial Profiling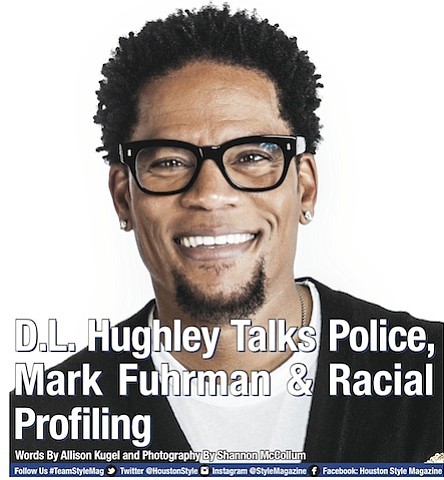 Hailed as one of the most prolific standup comedians of the past three decades, D.L. Hughley has never been afraid to dig into ethnic stereotypes, economic disparity, relationships, politics… nothing's off limits. His words are explicit and paint an accurate portrait of societal contradictions and pain in fast forward.
From his legendary standup material and his nationally syndicated radio show, The D.L. Hughley Show, to his upcoming Netflix series, The Fix (a hybrid game show/issues-based panel talk show), D.L.'s platform as an outspoken advocate of civil rights is unconventional and tinged with off-color language. But as he shared with me during our conversation, he believes that to reach people with a heavy message, you've got to get them to let their guard down through laughter.
His latest book, How Not To Get Shot: And Other Advice From White People (Out June 26th) pulls no punches and offers no apologies, as Hughley puts forth his satirical and bitingly sarcastic take on racial profiling, police shootings, President Trump, and the advice that white people often give black people on how to adequately assimilate into American society. Nothing is off limits as he covers topics like black names versus white names, dressing black versus dressing white, how white people advise black people to talk to the police, neighborhood profiling, "the race card," and a host of other hot button, racially charged issues. D.L. goes in.
The book doubles down on D.L.'s already controversial public platform. It is filled with humor, sorrow and irony, and it will make you a bit uncomfortable no matter what side of the fence you are on.
Allison Kugel: Did the motivation to write your latest book, How Not To Get Shot (And Other Advice From White People), come from a place of fear, love, hope, anger…?
D.L. Hughley: I think all those things. Fear, frustration, anger… they all kind of mirror each other. When I was writing this book, I realized that society would never take a good look at itself unless you make it feel good; unless you give them something to make their ears tickle a little bit. My overall thought was to be clear enough where it doesn't seem trite, and to be satirical enough where people can't tell if I'm being serious or not. And I needed it to be angry enough to mirror the people who go through these things all the time. Watching people of color being slaughtered at the hands of police is nothing new. I grew up in Los Angeles, so it happened quite often. Everybody always wants to say they want to start this conversation, and this book is my contribution to that conversation.
Allison Kugel: Do you feel safe living in the United States?
D.L. Hughley: I don't think I ever… black men and safety don't go together. There are a lot of words that black people use to describe how they feel, but I don't think "safe" is one of them.
Allison Kugel: What do you tell your kids when they ask if they're safe?