Plan Your Next Weekend Adventure at Schlitterbahn New Braunfels
Jordan Rogers | 7/9/2018, 7:43 p.m.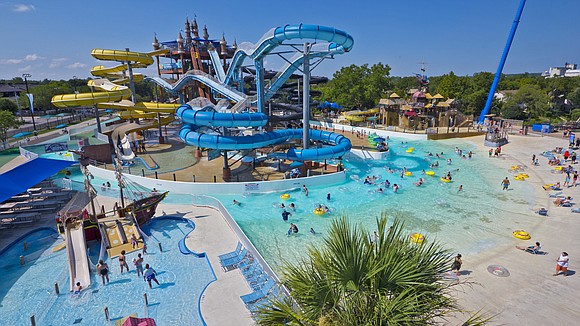 The calling of Schlitterbahn New Braunfels is its sense of adventure. The long standing water park has been a summer destination for many a group of people, whether families enjoying a break with their kids or adults looking for a fun getaway. The crew I went with? All adventure seekers with a little bit of relaxation in them. Hence, we took on Schlitterbahn with both of these ideals in mind. Nobody is ready for back to school and the mad dash for school supplies and worry about classes and grades. With summer almost over, we decided on a two-day adventure, because all of Schlitterbahn cannot be enjoyed in just one outing.
Our adventure started getting settled in our spacious cabana, one of nine on the property. Outfitted with shade, TVs, a small fridge filled with drinks and an attendant who was there to assist us with anything we may need, it felt like a makeshift resort had been established at one of Texas' greatest water parks. The attendant could assist us with almost anything from food to desserts to even bar drinks. Soon we realized delicious chicken tenders, burgers and waffle fries were waiting for us. Not to be outdone, the dessert menu contained a delicious cookies and cream funnel cake, just to get our sugar rush going in the right direction.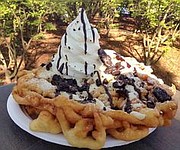 The service at Schlitterbahn stood out more than anything. Feeling welcomed is always a positive, comforting amenity. Our cabana attendants went above and beyond to make us feel like a top priority to the park.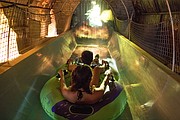 The first order of business after relaxing in the cabana was the Congo River Expedition. Similar to the classic lazy river concept, the Congo River Expedition features a bit more adventure as you go through dark tunnels, take sharp corners, take on river rapids and entertain small drops. There's also a Blast Pass that Schlitterbahn offers, catering to the thrill seeker in all of us. The Blast Pass is a rental service that is super easy and super convenient for those who simply want to ride all the different attractions in the park. One can rent the Blast Pass daily and with it, endless fun awaits. How it works is, you place the pass on your wrist, almost similar to a watch. You can then reserve a spot in whatever ride of your desire by using the kiosk, located all over the park. How handy is this pass? it will save your spot in line, there's a timer on it and once time the waiting time has run out you can go to the front of the line and ride the ride you've been waiting for.
We then checked into our Riverbend Cabin and instantly felt like we were back at home. From welcoming snacks to toiletries, it was a great way to settle down and get some much-needed rest. I know what you're thinking, why rest at Schlitterbahn? Well, enjoying the park and all of its perks and entertainment will tire you out; hence the cabana and cabin experiences.