3RD ANNUAL SPOILED LATINA DAY WITH KEYNOTE SPEAKER SUZETTE QUINTANILLA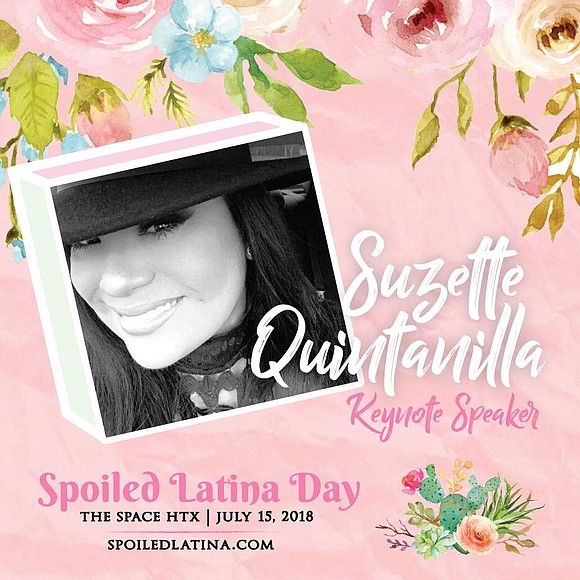 On Sunday, July 15, 2018, Houston's Lifestyle and Entertainment Blogger, Yvonne Guidry, is hosting the third annual Spoiled Latina Day in Houston, TX to empower and celebrate women by providing them with a space to network, grow and be spoiled to celebrate their individual successes within their community.
Spoiled Latina Day is an event curated by Yvonne Guidry founder of SpoiledLatina.com in 2015 to celebrate her recognition by the city of Houston proclaiming Yvonne Guidry Day.
"The day was proclaimed as a day to celebrate my career in the world of blogging where I have had the privilege to inspire, motivate and empower those around me with every collaboration and partnership I have done," said, Yvonne Guidry, founder of SpoiledLatine.com. "In it's third year, the day has a bigger significance as I celebrate 10 years of being a platform for moms, woman and Latinas around the world to get spoiled without feeling guilty during their ever so busy schedules."
The third annual Spoiled Latina Day will be hosted at The Space HTX which is located in the Heart of EADO – "The Art & Soul of the City" and is Houston's new urban and chic venue that is hosting Spoiled Latina Day. Sponsors include Los Cucos Mexican Café, Korbel, Jack Daniels and Raices Texas Contribution. Suzette Quintanilla, mother, entrepreneur and sister of the late singer Selena Quintanilla, will be the keynote speaker of the event in a sit down conversation format with Yvonne. Throughout the last three years, the attendance in guests has increased at a rapid rate of more than 30 percent each year. The goal is for Spoiled Latinas team is to host more than 200 guests to spoil.
Yvonne Guidry is a leading example of the modern-day mom, wife and Latina. She uses her platforms to provide easy tips and tricks on how to spoil yourself and take necessary time out of the hectic schedules woman face in the day. Since the beginning of her career, Yvonne has received numerous awards throughout the past 10 years such as, 2013 Top 5 bloggers by CBS local, 2014 Cosmo Blogger on the Rise and Houston Chronicle Style Profile, 2015 City of Houston Proclamation, 2016 Chronicle's Houstonians to follow on Instagram, 2017 Tecla Award Top Lifestyle & Entertainment Content Creator and most recently the 2018 Boss Life Award from the Boss Life Foundation and Mothers and Pearls Trendsetter Award - Her accomplishments serve as an example to her followers and readers that success is at the tips of your fingers and anything is possible, no matter the adversities anyone may face.
To purchase tickets visit, www.spoiledlatina.com and for more information on Yvonne Guidry, the Spoiled Latina, visit, www.spoiledlatina.com.