Trump says 'we're all to blame' for poor US-Russia relationship, Putin denies interference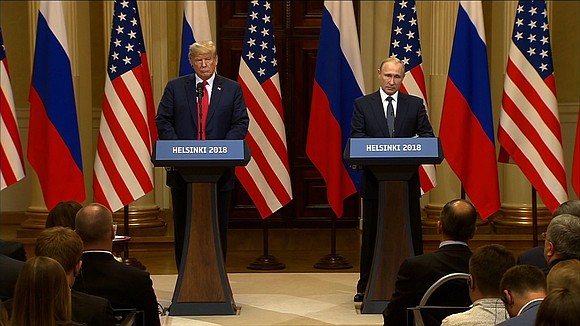 By Jeremy Diamond, CNN
(CNN) -- US President Donald Trump said Monday he holds both the United States and Russia responsible for the breakdown in the relationship between the two countries and railed against the special counsel's Russia investigation.
"I hold both countries responsible. I think that the United States has been foolish. We've all been foolish," Trump said during a joint news conference alongside Russian President Vladimir Putin in Helsinki, Finland.
"We should have, frankly, had this dialogue a long time ago. I think that we're all to blame. I think that the United States has now stepped forward along with Russia," Trump said, adding that he feels that the US and Russia have "both made some mistakes."
Trump and Putin blew past the 90 minutes they were scheduled to spend with only interpreters at their sides on Monday, just hours after the US President blamed US policy for the dismal state of relations between the two countries.
After their initial meeting, the two leaders brought in their top aides for an expanded bilateral meeting, the next step in their first official summit, and then concluded with a joint news conference.
Speaking to reporters, Trump again lambasted the special counsel's investigation stemming from Russian interference in the 2016 election as "a disaster for our country."
"I think that the probe is a disaster for our country. I think it's kept us (the US and Russia) apart. I think it's kept us separated," Trump said.
The US President proclaimed in front of Putin that "there was no collusion" during the 2016 campaign and said he "beat Hillary Clinton easily."
He added the Mueller probe has "had a negative impact on the relationship between the two nuclear powers."
While Trump dove into specifics on US missteps, he did not list any malignant Russian activities responsible for the low point in the US-Russia relationship.
Putin, meanwhile, denied any Russian election interference.
Gathered at the Finnish presidential palace, a historic venue where previous US presidents have also gathered with their Russian and Soviet counterparts to tackle the complex bilateral relationship, Trump made clear at the outset that he hopes the meeting can help transform the relationship into an "extraordinary" one.
"I think we have great opportunities together as two countries that, frankly, we have not been getting along very well for the last number of years," said Trump, who is hoping his personal touch can reverse the steep decline. "I think we will end up having an extraordinary relationship."
But the highly anticipated meetings that had been minutely planned began with a sluggish start after the Russian President arrived late, setting the summit about 45 minutes back.
Putin is known for arriving late to important events -- considered a power play by some observers -- but this time his late arrival offered a role reversal for the US President, who has recently walked in late to meetings at the G7 and NATO summits.
In 2009 and 2012, Putin showed up about 40 and 45 minutes late for his meetings with then-President Barack Obama. But he kept German Chancellor Angela Merkel and Ukrainian President Viktor Yanukovych waiting about four hours each in 2014 and 2012, respectively. Even the Pope waited more than an hour for Putin to show up at the Vatican in 2015.