Houston Native Participates in World's Largest International Maritime Warfare Exercise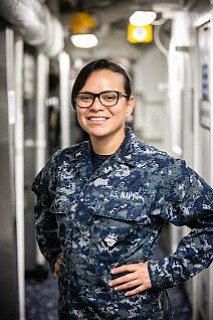 PEARL HARBOR – A 2004 Westbury High School graduate and Houston, Texas native is serving in the U.S. Navy as part of the world's largest international maritime warfare exercise known as the Rim of the Pacific (RIMPAC).
Petty Officer 3rd Class Lucia Marquezponce is an aviation structural mechanic attached to Helicopter Maritime Squadron 78, currently operating out of San Diego, California.
A Navy aviation structural mechanic is responsible for maintaining the hydraulic systems of the two MH-60R Seahawk helicopters onboard the ship, ensuring they are always ready for missions.
Marquezponce is looking forward to applying the lessons learned from Houston to working in the Navy.
"My parents are pastors, so I had a very formal upbringing," said Marquezponce. "I was taught to treat everyone with respect no matter what their status is. That's helped me in the Navy."
As the world's largest international maritime exercise, RIMPAC provides a unique training opportunity that helps participants foster and sustain cooperative relationships that are critical to ensuring safety at sea and security on the world's oceans. RIMPAC 2018 is the 26th exercise in the series that began in 1971.
The theme of RIMPAC 2018 is "Capable, Adaptive, Partners," according to Navy officials. The participating nations and forces will exercise a wide range of capabilities and demonstrate the inherent flexibility of maritime forces. These capabilities range from disaster relief and maritime security operations to sea control and complex warfighting. The relevant, realistic training program includes amphibious operations, gunnery, missile, anti-submarine and air defense exercises, as well as counter-piracy, mine clearance operations, explosive ordnance disposal and diving and salvage operations.
"I'm looking forward to seeing the different navies of the participating nations and seeing how they operate," said Marquezponce.
This is the first time Israel, Sri Lanka and Vietnam are participating in RIMPAC. Additional firsts include New Zealand serving as sea combat commander and Chile serving as combined force maritime component commander. This is the first time a non-founding RIMPAC nation (Chile) will hold a component commander leadership position.
This year will also feature live firing of a Long Range Anti-Ship Missile (LRASM) from a U.S. Air Force aircraft, surface to ship missiles by the Japan Ground Self-Defense Force, and a Naval Strike Missile (NSM) from a launcher on the back of a Palletized Load System (PLS) by the U.S. Army. This marks the first time a land based unit will participate in the live fire event during RIMPAC. RIMPAC 2018 will also include international band engagements and highlight fleet innovation during an Innovation Fair.
"I'm proud to have advanced to the rank of petty officer third class," said Marquezponce.
Twenty-six nations, 46 surface ships, five submarines, more than 200 aircraft and 25,000 personnel will participate in the biennial Rim of the Pacific Exercise. This year's exercise includes forces from Australia, Brazil, Brunei, Canada, Chile, Colombia, France, Germany, India, Indonesia, Israel, Japan, Malaysia, Mexico, Netherlands, New Zealand, Peru, the Republic of Korea, the Republic of the Philippines, Singapore, Sri Lanka, Thailand, Tonga, the United Kingdom, the United States and Vietnam.
As a member of the U.S. Navy, Marquezponce and other sailors know they are part of a legacy that will last beyond their lifetimes providing the Navy the nation needs.
"I've learned that I have the potential to lead and I can learn many different aspects of my job in the Navy," said Marquezponce. "Serving in the Navy is something I'm very proud of. My family is proud of me, because I'm one of the very few that have joined. I'm glad to start that legacy for my family."
Additional information about RIMPAC is available at http://www.cpf.navy.mil