Congress skeptical of Trump's G7 strategy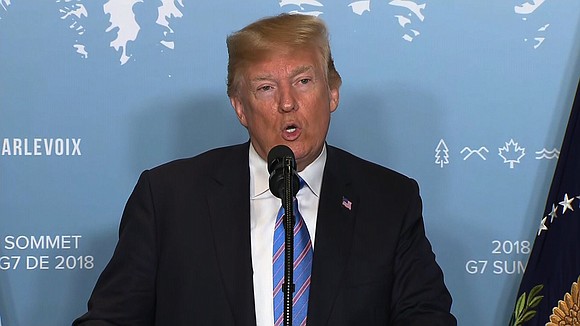 By Lauren Fox and Daniella Diaz, CNN
(CNN) -- Just hours ahead of a historic summit in Singapore, lawmakers back in Washington are openly questioning President Donald Trump's latest global strategy with some bemoaning that the White House is alienating American allies while simultaneously stretching the bounds of cooperation with long-held enemies.
Trump is scheduled to meet Tuesday with North Korean leader Kim Jong Un just days after ruffling feathers at the G7 summit in Canada and engaging in a public spat with Canadian Prime Minister Justin Trudeau, a move that even a handful of lawmakers in the President's own party are questioning.
On Friday, Trump called for Russia to be added to the summit to restore it the G8, a statement that Nebraska Republican Sen. Ben Sasse said was "weak."
"This is weak. Putin is not our friend and he is not the President's buddy. He is a thug using Soviet-style aggression to wage a shadow war against America, and our leaders should act like it," Sasse said.
Saturday, Trump summit pulled the US endorsement of the summit communique -- a joint statement that was signed by all the other G7 participants: Canada, France, Germany, Italy, Japan and the United Kingdom.
Trump announced on Twitter he had made the decision following comments from Trudeau that Canada would move ahead with imposing retaliatory measures on the US in response to newly imposed tariffs imposed by the US on aluminum and steel.
"I have made it very clear to the President that it is not something we relish doing, but it something that we absolutely will do," Trudeau said. "Canadians, we're polite, we're reasonable, but we also will not be pushed around."
White House trade adviser Peter Navarro said Sunday on Fox News that "there's a special place in hell for any foreign leader that engages in bad-faith diplomacy with President Donald Trump and then tries to stab him in the back on the way out the door."
Hours later, Arizona Republican Sen. Jeff Flake tweeted a link to an article about Navarro's comment with a message: "Fellow Republicans, this is not who we are. This cannot be our party."
And GOP Rep. Adam Kinzinger said he was "confused" when he saw the remarks from Navarro.
"Look, as a guy that believes in heaven and hell, I would never use those terms ever," he told CNN's Kate Bolduan on "At This Hour" on Monday. "I thought that was inappropriate. We can have disagreements as allies and I don't even mind the President going there with a tough message because, look, we want a fair deal, but to go to that level, when I woke up and saw that headline, I was a little confused."
McCain responds
Sen. John McCain, who is battling brain cancer in his home state of Arizona, called out the President in a tweet Saturday for not siding with US allies at the summit.
"To our allies: bipartisan majorities of Americans remain pro-free trade, pro-globalization & supportive of alliances based on 70 years of shared values," the Arizona senator tweeted. "Americans stand with you, even if our president doesn't."