Rafael Nadal beats Dominic Thiem for 11th French Open title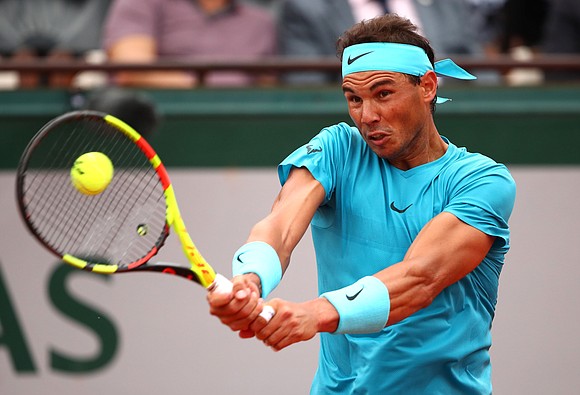 Ravi Ubha, CNN
(CNN) -- Having just turned 32, Rafael Nadal is unlikely to win 20 French Opens. But how about 15?
He began that quest Sunday, winning his record-extending 11th title on the clay at Roland Garros and 17th major overall with a 6-4 6-3 6-2 victory over his spirited but ultimately vanquished challenger, Dominic Thiem.
"It's definitely one of the best things somebody ever achieved in sport," Thiem told reporters.
Nadal also became the second tennis player ever to win 11 titles at the same major, joining Margaret Court. Court won 11 on home soil at the Australian Open, the last coming near the start of the Open Era in 1973.
The French Open isn't Nadal's home slam but it might as well be.
"Memories are forever, and I have incredible memories of this event," he told reporters. "I don't want to start explaining all the memories that I have, because they are so long. But since the first time that I came here until today is a love story with this event, not only with the victories, but this is all about the people who are working the event, too."
Considered to be declining two years ago, Nadal and friendly rival Roger Federer have now won the last six grand slams.
"We have two of the greatest of all time in one era," summed up James Blake, who beat both Nadal and Federer prior to retiring. "It's fun to see how they match up and how they keep pushing each other."
Nadal moved, once again, to within three grand slams of the Swiss. Nadal's uncle and longtime former traveling coach Toni -- who returned to watch his nephew Sunday -- said essentially that only time will tell whether Federer can be caught. He also was aware that Federer might go four clear of Nadal in a month at Wimbledon.
But Nadal himself wasn't too bothered.
"I never have been crazy about all this kind of stuff," he told reporters, and not for the first time when asked about matching the 36-year-old. "No, you can't be frustrated always if somebody have more money than you, if somebody have a bigger house than you, if somebody have more grand slams than you. You can't live with that feeling, no? You have to do your way.
"And then you have to be happy with the things that are happening to you, no? I happy that other people have things, and I am very satisfied, and I feel very lucky with all the things that happened to me."
Tennis is lucky to have Nadal. On Friday, Thiem's coach Gunter Bresnik called him the best competitor of all time in any sport. Off the court, Nadal never lacks in humility.
Sunday's score might have looked rather routine but there was some drama in the third set in sticky Paris when Nadal called for the trainer at 2-1, 30-0. It turned out to be for a cramp in a left finger that left him temporarily unable to serve with much pace.