First Lady Cecilia Abbott Addresses First Annual Texas Women Veterans Day Celebration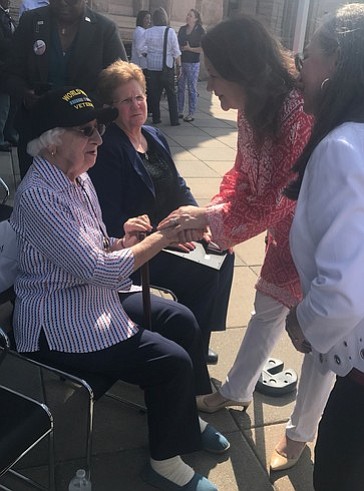 AUSTIN – Texas First Lady Cecilia Abbott today attended the first annual Texas Women Veterans Day Celebration at the Texas State Capitol. The First Lady joined thousands of Texans in Austin and across the state in honoring the 177,000 women veterans in the Lone Star State, and participated in the opening ceremony on the South Steps by reading the Women Veterans Day proclamation from Governor Greg Abbott.
"Throughout America's proud military history, women have played a vital role, serving with honor and distinction," said First Lady Abbott. "Women have displayed the bravery, commitment and strength we have come to expect from our military, and I am proud to recognize and commend their selflessness and dedication."
During the 85th Legislative Session, Governor Abbott signed into law HB 2698, designating June 12 as Women Veterans Day in Texas. The day's festivities included live music, a resource fair, art exhibit, and round table and panel discussions. Additionally, other Women Veterans Day events took place simultaneously across the state.