Primaries in Maine, Nevada, North Dakota, South Carolina and Virginia: What to watch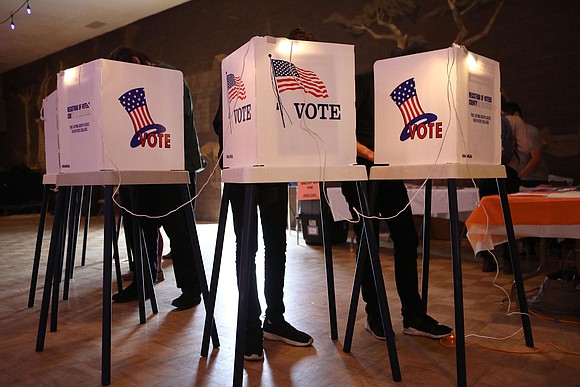 By Wade Payson-Denney and Adam Levy, CNN
(CNN) -- Five states head to the polls on Tuesday in primary elections that will set up some of the most critical contests to determine control of Congress next year.
Two of the most vulnerable senators -- a Republican in Nevada and a Democrat in North Dakota -- will have challengers by the end of the night.
In South Carolina and Virginia, Republican voters will decide if they want to punish representatives who haven't fully embraced President Donald Trump. Democrats in Nevada and Maine are picking candidates they need to turn the tide on GOP-controlled Washington.
Here's what you need to know:
Polls close at 7 p.m. EDT in Virginia and South Carolina. In Virginia, Democrats are targeting a handful of seats to flip in November and Republicans will choose their nominee to challenge Democratic Sen. Tim Kaine. In South Carolina, Rep. Mark Sanford is facing an insurgent primary challenger who is attacking him for his criticism of Trump.
Polls close at 8 p.m. EDT in Maine. The state will be the first in the nation to use ranked choice in statewide elections on Tuesday. Democrats feel good about the race to replace controversial Republican Governor Paul LePage, though the state's unusual voting means even professional observers don't know which Democratic candidate will win the nomination. State Attorney General Janet Mills and Iraq and Afghanistan wars veteran Adam Cote are both seen as strong Democratic candidates for the Fall.
All polls are closed at 9 p.m. EDT in North Dakota. Republicans will most likely pick Rep. Kevin Cramer, the state's sole representative in Congress, to challenge incumbent Sen. Heidi Heitkamp, one of the most vulnerable Democratic senator this November. Trump won North Dakota by 36 points in 2016.
Polls close at 10 p.m. EDT in Nevada. Another competitive November election will be take shape here on Tuesday. Incumbent Sen. Dean Heller, considered to be the most vulnerable Republican senator this year, will most likely face Democratic Rep. Jacky Rosen, who is most favored to win her party's nomination in a general election race CNN currently rates as a toss-up.
Here's a closer look at what to watch tonight:
ANOTHER TRUMP CRITIC IN TROUBLE: Just one week after Republican Rep. Martha Roby was forced into a runoff in Alabama over her 2016 disavowal of Trump, South Carolina's Sanford might face a similar fate. Sanford is facing a strong primary challenge from state Sen. Katie Arrington, who has attacked him for criticizing Trump and has alluded to his adulterous past, saying in an ad that "it's time for Mark Sanford to take a hike — for real this time." Sanford only won re-nomination by 4,000 votes in 2016, but he has also demonstrated a remarkable ability to weather political storms and controversies over the years.
WILL PARNELL WIN? Sanford is not the only politician in hot water in South Carolina. In the state's 5th Congressional District, embattled Democrat Archie Parnell -- who narrowly lost a 2017 special election -- remains on the ballot, despite recently admitting to domestic abuse in the 1970s, news which rocked his campaign and likely spoiled a long-shot Dem pick-up opportunity if Parnell advances.