'Día Mundial de la Tapa' Launches Olé, San Antonio at Pearl
Spain's Turespaña Tourism Board helps bring the flavors of Spain to Pearl with a first time in the US celebration of World Tapas Day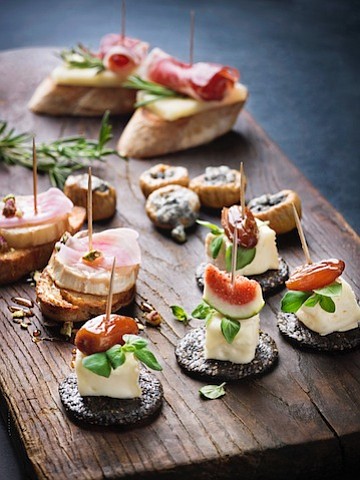 SAN ANTONIO, TX (June 2018)– Pearl, in collaboration with Turespaña, the official tourism board of Spain and their culinary destination team Tasting Spain Association, along with BBVA Spanish banking group, are excited to announce Día Mundial de la Tapaor 'World Tapas Day' coming to the US for the first time - during which they will host ten chefs visitingfrom acclaimed culinary destinations of Spain for a tapas-focused dinner,on Thursday, June 21at Pearl Stable as part of Olé, San Antonio. The intercambio (exchange) culinary program will kick off Olé's gastronomy pillar. Día Mundial de la Tapais an immersion of ten critically acclaimed international chefs (many with Michelin stars to their name), each travelling to San Antonio from ten different cities who hold membership to the country's Tasting Spain Association. Participating cities include Valencia, Sevilla, Catalunia, Madrid, Tenerife and more, all joining San Antonio to celebrate the diversity and richness of Spanish flavors through the classic format of the Tapa (small plates).
This food journey will launch Pearl's summer programming and celebrates cultural and culinary diversity of Spain with its most recognized and universal concept: tapas. Día Mundial de la Tapa (World Tapas Day) is recognized in Spain and throughout Europe. Throughout the evening, each chef will serve a unique tapa reflective of the ingredients, preparation techniques, and traditions of their city. With this event, San Antonio will be the first city in America recognized by Spain as an official Capital of Tapas.
"We are so thrilled to welcome Spain's culinary leaders to celebrate a simple, joyous food that brings everyone together: the tapa" said Elizabeth Fauerso, chief marketing officer for the Pearl. "We're especially grateful to our partners for making this occasion possible and eager to see what our Spanish friends have in store for Día Mundial de la Tapa."
Spanish chefs participating with their representing city include: Diego Ciriaco Morales Pérez(Cuidad Real), Rodrigo García Fonseca(Madrid), Pablo Ministro(Valencia), Javier Peña(Valladolid), Victor Javier González Zúñiga(Segovia),Manuel Santiago Corbacho García(Badajoz), Juan Leopoldo Nuñez Esquivel(Sevilla),Pablo Pastor(Tenerife), Jorge Sánchez Giraldo(Trujillo), and Daniel Olivella(Barcelona).
Ticket price is $100 per person and includes an extensive sampling of unlimited tapas—showcasing the food and flavors of Spain—with wine tastings from various destinations of Spain and a cava tasting bar. Wineries include Bodegas Licinia from Madrid, Bodega Marqués de Vargas out of Logroño, Emilio Moro from Valladolid, and Bodega Pago del Vicario in Cuidad Real. Tickets can be purchased here: https://ole2018.ticketbud.com/dia-mundial-de-la-tapa
This program is made possible with immense support from Turespaña and BBVA Compass. Turespaña is the national agency responsible for marketing tourism in Spain to the world and to create value for its tourism sector. BBVA Compass is a subsidiary of Banco Bilbao Vizcaya Argentaria (BBVA), the second largest bank in Spain.
"Spain is a world leader in gastronomy. Out of the 82 million visitors that visited Spain in 2017, 10 million engaged in culinary experiences. Our country currently holds 195 Michelin Stars restaurants, among which are El Cellar de Can Roca (Girona), Mugaritz (San Sebastián), and Asador Etxebarri (Axpe), also ranked between the 10 best restaurants in the world by The 50 Best guide. Wine tourism and sustainability are key factors in our tourism objectives. Spain offers top wineries and some of the best Wine Routes worldwide where gastronomy plays an important role as well. Renown bodegas from Spain are present in the U.S. and our wine culture is expected to increase even more. We also would like to mention that Spain offers marvelous and unique attractions and excellent climate to our visitors. Spain possesses the largest number of World Heritage Sites worldwide," said Félix De Pax of Spain's Consul for Tourism Affairs.
Pearl would also like to thank all its integral partners for making Olé possible, including San Antonio Museum of Art, Southwest School of Art, Hotel Emma, Culinary Institute of America in San Antonio, The University of Texas at San Antonio Guitar Program, Casa de España en San Antonio, and Guadalupe Cultural Arts Center; artists Joe Reyes, Aaron Prado, Vanessa del Fierro, Azul Barrientos, and Arte y Passion; as well as its partners in Spain, including ICEX, Turespaña, Tasting Spain Association, Wines of Spain, Foods of Spain, The Office of Arts and Culture, and the Spanish Consulate. For more information on Olé, please visit atpearl.com/ole.