Phil Mickelson sparks controversy as four players tie for US Open lead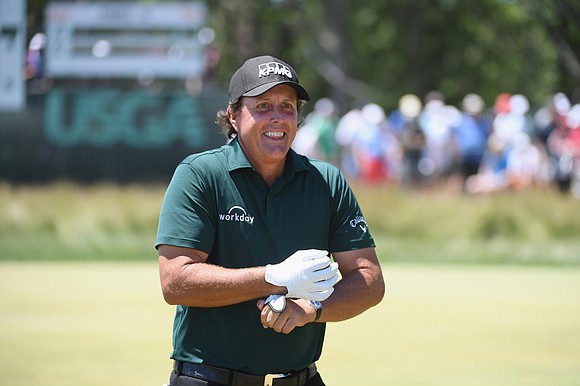 By Rob Hodgetts, CNN
(CNN) -- Phil Mickelson's "putt-gate" shenanigans at Shinnecock created a firestorm that will haunt his legacy on a tumultuous and controversial third day at the US Open.
The veteran American -- celebrating his 48th birthday -- ran after a still moving putt and hit the ball back towards the hole during his third round.
It's a no-no for kids on a crazy golf course, let alone a five-time major champion and former world No. 2 at the US Open.
But the left-hander's admission he deliberately incurred a two-shot penalty rather than risk running up a bigger score sparked criticism that he had bent the usual etiquette and spirit of the game.
The incident will always dog the colourful and often controversial Californian -- he later told critics to "toughen up" -- but Mickelson's mad-cap moment was just the start on a crazy day at Shinnecock Hills.
Two-time major winner Zach Johnson said the USGA had "lost the course" because the strengthening afternoon wind combined with slick greens and tough pin positions had made some holes extremely challenging.
Greens such as the 15th appeared to unfairly penalize good shots which landed close to the pin but ran off the putting surface.
Other players, however, were more measured and accepted the challenge for what it was. "It's a grind. But it's the US Open, you just have to keep plugging along. The guy who moves on the quickest usually plays the best," Koepka told Sky Sports.
Mike Davis, chief executive of the USGA said later: "We want the US Open to be tough, but we saw some examples late in the day where well executed shots were not only not being rewarded, but in some cases penalized."
Amid the furore, there was still a golf tournament to be won, and when Dustin Johnson missed a putt on the final green he fell back into a four-way share of the lead going into Sunday's final round.
The world No.1 is tied at three over with defending champion Brooks Koepka, alongside Daniel Berger and Tony Finau, who both carded rounds of 66 in benign morning conditions on Long Island.
England's 2013 champion Justin Rose was one of a number of overseas players who had to endure abuse from a raucous and highly charged New York crowd, but he held his nerve to sit one shot further back.
Twenty two players are bunched within five shots of the lead. They will be mindful that Arnold Palmer set a record US Open final-round comeback of seven shots when he won in 1960.
But Saturday at Shinnecock will always be remembered for Mickelson's antics.
The American had a 10-foot putt for bogey on the 13th hole, but the ball slid past and he watched it gather pace down a slope. He jogged after it and tapped it back up towards the hole as it was still rolling.
Mickelson then marked his stationary ball before taking two more putts for an eight, which was later corrected to a 10 after he was assessed a two-stroke penalty.