Altuve Takes Over MLB Lead in All-Star Fan Balloting
Reigning MVP has garnered over 1.5 million votes; Correa moves up to second among AL shortstops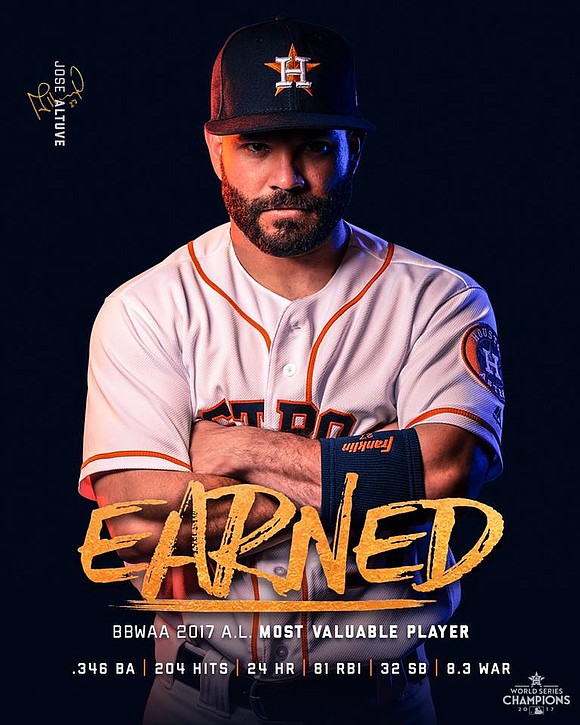 HOUSTON, TX - Major League Baseball released its second update of the American League All-Star voting results today, which revealed that Astros reigning AL MVP Jose Altuve has taken over the lead among all Major League players in fan balloting (1,572,101), immediately ahead of Mookie Betts (1,568,417), who led the Majors in voting in last week's update.
Altuve has started the last three All-Star Games (2015-17) and has appeared in five Midsummer Classics overall (2012, 2014-17). He is looking to join Hall of Famer Rod Carew (six straight, 1970-75), Hall of Famer Roberto Alomar (four straight, 1991-94; five straight, 1996-2000) and Robinson Canó (five straight, 2010-14) as the only AL second basemen to win four consecutive fan elections. The Astros record for All-Star appearances is seven, held by Hall of Famer Craig Biggio.

Among AL second basemen, Altuve leads Yankees second baseman Gleyber Torres (534,758) by over 1 million votes, the widest margin currently between all first and second-place players.
Carlos Correa, who was the AL starter at shortstop in 2017, has moved up to second place among shortstops (was fourth last week), and trails the top vote-getter (Manny Machado) by just 212,766 votes. George Springer, who also was an All-Star starter in 2017, is currently fifth among AL outfielders (no change from last update). Third baseman Alex Bregman, designated Evan Gattis, first baseman Yuli Gurriel and catcher Brian McCann are third in their respective races, while Marwin Gonzalez (8th) and Josh Reddick (10th) are in the top 10 among AL outfielders.
The Astros also have several pitchers that are strong candidates for the All-Star Game, however pitchers are not selected via the traditional fan vote.
As the World Series winning manager, Astros manager AJ Hinch will serve as the AL skipper for the All-Star Game, and will be joined by his entire coaching staff, including Rich Dauer, who coached first base for the Astros in 2017 prior to his retirement. The 2018 All-Star Game will be played on Tuesday, July 17 at Nationals Park in Washington, DC.
Voting is available at Astros.com/Vote until Thursday, July 5 at 10:59 p.m. (CT). Fans can vote up to five times per day and 35 times throughout the voting period.