Wells Fargo and American Express Introduce New Propel Card with Triple Points and $0 Annual Fee
A no-annual-fee rewards card offering triple rewards points on eating out and ordering in, travel and transit, and popular streaming services2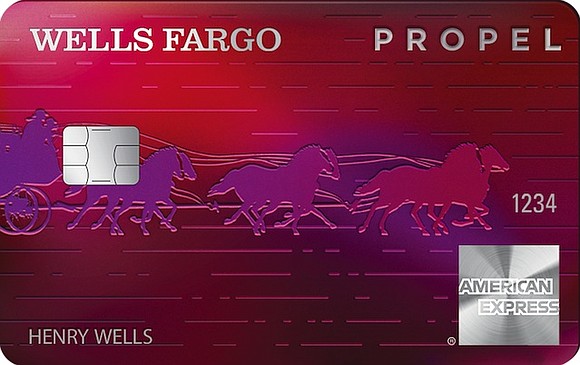 Plus 30K bonus points after spending $3,000 in the first three months3
(SAN FRANCISCO – June 25, 2018) – Wells Fargo & Company (NYSE: WFC) today announced a newly enhanced Propel® Card, one of the richest no-annual-fee rewards cards in the industry that offers some of the most inclusive reward categories among leading credit cards, with a $0 annual fee, including:
 3X on eating out and ordering in2 at restaurants from fast food to bistros and fine dining
 3X on travel and transit2, including airlines, car rentals, hotels and homestays, cruises, and gas stations, ride sharing, railways, parking, taxis and tolls
 3X on popular streaming services
 1X on other purchases22
 No foreign currency conversion fee1
 Access to exclusive presales tickets, offers and protections from American Express
 No limits on the points you can earn, no points expiration as long as the account is open, no annual fee
New Wells Fargo Propel cardholders will earn 30,000 bonus points (a $300 cash redemption value) after spending $3,000 in the first three months.3 The card will be available for applications next month.
The new Propel® Card is designed for the independent and driven consumer-those taking advantage of all that life has to offer. With Propel, cardholders' everyday spending is maximized with triple rewards points – eating out and ordering in, travel including airfare, hotels, and car rentals, ride-sharing and mass transit, and popular streaming services. The new card, designed in encapsulated metal, allows cardholders to earn rich rewards without an annual fee.
"We are listening to consumers to better understand and serve their needs holistically, and have heard directly from them on what they want most in a credit card. Based on that feedback, we are excited to offer one of the richest rewards credit cards in the industry, for no annual fee. With triple points on most of what consumers do every day, the new Propel Card complements their lifestyles – whether they are commuting to work or planning a summer vacation; whether they're downloading a favorite TV series to binge watch or having dinner out with friends," said Bev Anderson, head of Wells Fargo Cards and Retail Services. "Wells Fargo is re-committed to fulfilling our customers' needs by providing strong, experiential value through the new Propel Card, our best rewards card, for consumers who live their lives to the fullest and desire a credit card that rewards them for it."
The Propel Card will be accepted at merchants that accept American Express. Through American Express, Propel cardholders also will have access to millions of presale tickets for concerts, sporting events, Broadway shows -- plus everyday discounts and offers on travel, restaurants and retailers across the U.S. and around the world. Existing Wells Fargo American Express Propel cardholders are automatically converted to receive the new Propel benefits. "We have a long history with Wells Fargo and they are an important and valued partner," said William Stredwick, senior vice president, Global Network Partnerships, North America, American Express. "We are delighted the newly enhanced Propel Card brings together the premium benefits provided by American Express, including pre-sale tickets, offers, and protections, with this new and outstanding rewards proposition offered by Wells Fargo."
Rewards points do not expire as long as the account is open, and there is no annual cap on rewards points for Propel cardholders. As part of the Go Far® Rewards Program, cardholders can enjoy many great redemption options at a strong redemption value on things like travel, merchandise, and select charitable donations. Cardholders also can share Go Far Rewards with other Wells Fargo Go Far Rewards customers, get gift cards for family and friends, or redeem their rewards to pay down an existing Wells Fargo loan or mortgage, get cash at a Wells Fargo ATM or deposit into to a Wells Fargo checking or savings account. Consumers will be able to apply for the card wherever they look for new credit cards – online at WellsFargo.com or in the Wells Fargo Mobile® app, through major online credit card sites, through mail, and at approximately 5,800 Wells Fargo retail branch locations. The card issuing partnership between Wells Fargo and American Express was originally announced on Aug. 7, 2013.