Westin Hapuna Beach Resort Debuts on the Big Island of Hawaii
Mauna Kea Resort LLC will Introduce The Westin Hapuna Beach Resort on June 25, 2018, With an Extensive Multi-Million Dollar Transformation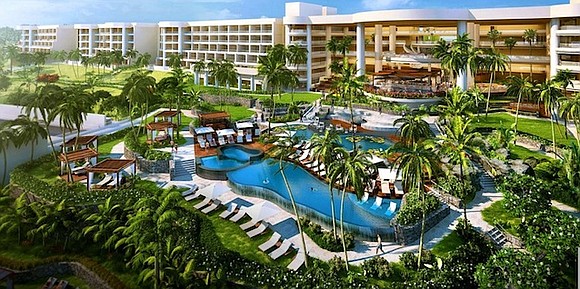 HAPUNA BEACH, HI (JUNE 2018) – Westin Hotels & Resorts, part of Marriott International, in partnership with Mauna Kea Resorts LLC today announced the debut of The Westin Hapuna Beach Resort following an extensive multi-million dollar renovation that will reimagine its guestrooms and suites; introduce four new culinary concepts; and transform the resort's public spaces with an all-new adults-only pool and enhancements to the existing family pool area.
"The June 25, 2018 opening of The Westin Hapuna Beach Resort reinforces that the brand is continuing to grow in lockstep with the evolving demand of travelers, who are increasingly prioritizing their well-being while on the road - even when on vacation," said Brian Povinelli, SVP & Global Brand Leader, Westin Hotels & Resorts. "From our iconic Heavenly Bed and Gear Lending program, to our innovative fitness partnerships with Peloton and TRX, we are thrilled to offer a meaningful wellness proposition for travelers, as only Westin can."
Perfectly nestled into the bluffs above the idyllic Hapuna Beach, The Westin Hapuna Beach Resort will feature some of the largest rooms on the Kohala Coast, 17 new suites that complement 232 guestrooms, each redesigned to be an oasis for well-being and relaxation. The thoughtfully-designed lobby connects guests with the hotel's unique sense of place (Ha'ena) feeling residential and intimate, yet open and airy: designed with a biophilic-focus, suggesting that a connection to nature enhances well-being. The custom living wall and vertical garden brings the island's flora and fauna indoors, while interactive check-in pods modernize the arrival experience. Colors found in nature inspired the sophisticated palette coupled with natural materials and patterns that add textural layers to the interior design.

"We are thrilled to bring the Westin brand to the Big Island of Hawaii, where we will welcome guests and the community to an elevated resort that celebrates the wellness as well as the area's local culture and ease of island spirit," said Kisan Jo, President of Prince Resorts Hawaii. "As we continue to build on the Westin brand promise of delivering to guests a best-in-class experience, the introduction of our resort signals a new wave of island luxury, furthering the Kohala Coast's status as a sought-after destination."
The Westin Hapuna Beach Resort will introduce four new culinary concepts:
· A Mediterranean inspired restaurant, Meridia boasts a display kitchen, craft cocktails, expanded al fresco dining and a charcuterie and crudo bar with house-made artisanal bread. Meridia's Mediterranean-inspired cuisine is created with locally sourced ingredients and is infused with the island's rich bounty. A portion of the new dining room will become a new Hapuna Club/Member Lounge.
· A fun and casual dining experience serving Pacific Rim cuisine, Naupaka Beach Grill is an innovative casual restaurant featuring an extensive list of local brews on tap. Naupaka Beach Grill provides a casual setting for salads, sandwiches and pupus. As the sun sets, this poolside grill is enhanced by memorable ocean views.
· An outdoor seating experience, 'Ikena Landing is an open-air breakfast venue with expanded seating and nature-inspired shade trellises. Nutritious à la carte options and a sumptuous breakfast buffet showcasing local fruits are complemented by fresh juices by The Juicery and vibrant smoothies.