Top 4 Sunscreens for Black Skin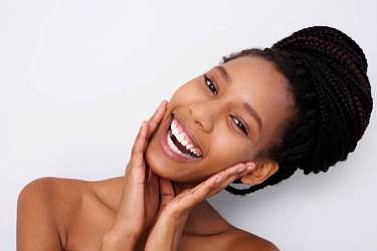 By Jasmine Browley for BlackDoctor.org
Contrary to popular belief, darker complexions need daily sun protection just as much as their fairer counterparts. No matter your skin tone, sunscreen should every day regardless of the weather. With that being said, as important as sunscreen is, they're not all created equal.
A lot of options available tend to feel heavy, oily and greasy on the skin. Not to mention the chalky finish it leaves Black and brown people, especially, they can look really chalky. But there's hope for us yet. Here are a few great products that leave us feeling protected without the mess.
Supergoop Unseen Sunscreen Broad Spectrum SPF 40
This clear sunscreen is great if you have oily skin. The antioxidant-rich formula applies smoothly on the skin and has a matte finish that sits well underneath makeup. It dries to a matte finish within a few seconds and has a very faint herbal-citrusy scent. Those who usually hate sunscreen would be hard pressed to find something to complain about with this formula.
It defies every negative SPF cliché you've ever heard: It's lightweight, non-greasy, and completely sheer—even on dark complexions. And the scent is totally devoid of the obnoxious fruity scent that usually wreaks of coconuts, bananas, and every other tropical-cocktail flavor generally associated with sunblock.
The only drawback: It's pretty runny (expect the product to run out as soon as the tube is open!). It's so great, you can actually look forward to applying it from head to toe every day which is how sunscreen should be used, anyway.
Black Girl Sunscreen
Aside from foundation, sunscreen ranks pretty high up on the list of things that Black women are always struggling to find. It either adds a gray cast to the skin, making our face look like it's covered in chalk, or is filled with toxins that even if it blends in, no one wants to put on their face. Look no further; Black Girl Sunscreen to the rescue! The creators of Black Girl Sunscreen said that their approach is to use natural ingredients that moisturize the skin without leaving a white residue or as we know it being ashy. Ingredients include carrot seed oil, jojoba oil, almond oil and shea butter while being fragrance-free.
Glosser Invisible Shield
Glossier's Invisible Shield is, a fan favorite and one of the most Black and brown girl-friendly sunscreens on the market. Its colorless, smooth texture works flawlessly on virtually all skin types and complexions without leaving a filmy finish behind.
According to Allure, the serum-like sunscreen, which boasts SPF 35, is made with tiny spheres packed with UVA and UVB filters to block the sun's powerful rays, water to create its featherlight texture, and vitamins E and P to neutralize free radicals inside the skin. There's also sweet orange essential oil, which gives the clear gel a distinct, but the not-overpowering citrusy scent.
Murad City Skin Age Defense Broad Spectrum SPF 50
Murad's mineral sun blocker may have a slight orange tint, but it's not anything to worry about. No matter your skin-tone, once this sinks into the skin (and it does instantly), it's completely untraceable. Like the others mentioned, you won't have to worry about this sunscreen messing with your melanin with a gray cast. That's what we're talking about!
Jasmine Browley holds an MA in journalism from Columbia College Chicago, and has contributed to Ebony, Jet and MADE Magazine among others. So, clearly, she knows some stuff. Follow her digital journey @JasmineBrowley.