The Ensemble Theatre Honors King in a Magnificent Way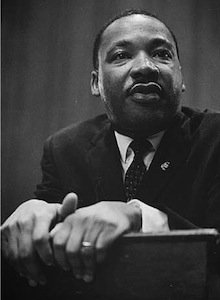 On April 4, 1968, the Rev. Dr. Martin Luther King Jr., 39, was shot to death in Memphis TN while standing on a hotel balcony. Dr. King, the praised civil rights leader, arrived in Memphis on April 3rd and delivered the final speech of his life, known today as the "I've Been to the Mountaintop" address, in which he spoke of his own mortality.
This April marks the 50th anniversary of Dr. King's death and Houston's Ensemble Theatre celebrated the man, the minister, and the activist. The show "King The Legacy Lives On" directed by Anthony Boggess- Glover is a commemorative tribute to Dr. Martin Luther King Jr. and a reflection on his legacy as one of the most prolific leaders of the civil rights movement.
The performance began with a heart-rending montage composed of spirited Gospel songs: We Shall Overcome; I Shall Not Be Moved, Precious Lord, Bridge Over Troubled Water, and Mountaintop. The program also included spoken word pieces and monologues contrived with themes of strength, unity, and freedom. The Ensemble's tribute included talented actors who were exceptional vocalists as well. Among the show's cast were actors Kyle Mosely, April Wheat, Roena Thompson, Darron Gilmore, Silvanus LaToison and Young actor's performer Oak Morse who delivered a dynamic spoken word piece on Dr. King's hope and vision for today. Included in the show was a riveting performance from the play "The Mountaintop" performed by actors LaToison and Thompson that depicted a pensive Dr. King on the night before his death. During the scene, an angel (Thompson) gives Dr. King (LaToison) a look into future and the impact he has had on the world since his death. It was a powerful scene and LaToison does an outstanding job embracing the essence of Martin Luther King, Jr. and dramatizing his "hopes, regrets, and fears" in the very last moments before his death.
The Ensemble Theatre helps audiences' to respect Dr. King's legacy by reminding us to vote and to be an active participant in legislative decision-making. The actors demonstrated the tensed political climate of the civil rights movement and how one man had the courage and conviction to change it all. King: The Legacy Lives On also addressed today's current political issues and reminded us that there is still much work to be done with a racial divisive Trump agenda in full effect.
The performance ended with a poignant presentation of Dr. King's most infamous speech to date:
It is a dream deeply rooted in the American dream. I have a dream that one day; this nation will rise up and live out the true meaning of its creed. We hold these truths to be self-evident - that all men are created equal.
As I viewed the play, I couldn't help but think of another one of Dr. King's poignant speeches. It was one he delivered in 1957 in which he spoke of sacrifice and civil service. Dr. King declared, "Life's most persistent and urgent question is: 'What are you doing for others?'"