Starz POWER's Rotimi to Host 7th Annual Natural Hair & Health Expo with Celebrity Guests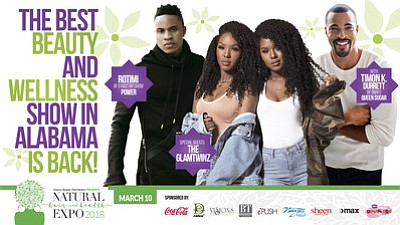 BIRMINGHAM, Ala., March 3, 2018 /PRNewswire/ -- Reloaded for 2018, the Visions Beauty Natural Hair and Health Expo (NHHE) kicks off its seventh annual beauty and wellness experience at the Birmingham Jefferson Convention Complex on Saturday March 10, 2018 from 10am-6pm. The much anticipated annual one-day event welcomes over 100 national and local natural hair, cosmetics, fashion, health and fitness vendors, and more than 5,000 naturalistas from all over the southeast. Attendees will enjoy a full day of beauty, fashion and entertainment, including the crowning of Miss Natural Hair and Health Expo 2018.
Featured appearances for the 2018 NHHE include actor/singer Rotimi of the Starz hit show Power, Jay Hunter of OWN's drama series Tyler Perry's If Loving You Is Wrong, Alissa Latham, Ms. Massachusetts 2018, and Timon K. Durrett of OWN's acclaimed drama Queen Sugar. Jasmine Sanders of the DL Hughley Show and Tasha Simone of Hot 107 will co-emcee the mainstage, which will feature special guests Dr. Ruth Edmonds, renowned Nashville oral health expert; and Atlanta-based model and influencer Travis Cure. And for their first appearance in their home state, NHHE welcomes The GlamTwinz, beauty vloggers and influencers with more than one million combined followers for a special fan meetup, book signing, and interview with exclusive insights on their journey from Montgomery to beauty blogger stardom.
Additional highlights for 2018, all included with the price of admission:
NHHE Mainstage Pavilion with celebrity interviews and special musical performances, Sheen Magazine StyleOvers, HairTalk with the Hair Coach DeShawn Bullard and Hayah Beauty's Darrius Peace, Cut Wars Hair battle presented by the Design Essentials Style Team, and the NHHE hot topics discussion;
Workshops and Seminars featuring natural hair care and braiding, skin care and makeup demonstrations, hair growth and hair loss, essential oils, along with topics of interest including real estate, special events and entrepreneurship.Featured workshops include a women's entrepreneur empowerment session hosted by Coca Cola supplier diversity and the 5by20 program (registration is free, but required);
Complimentary Beauty Lounges, including a Luxe Nail Bar powered by Polish and Co, 20-minute massages, Natural Hair Care Sampling Bar powered by Revlon Creme of Nature, and glam eye makeovers courtesy of Vonetta Cosmetics;
Shea Moisture Men's Barber and B-ball Lounge with complimentary line-ups (product purchase required), products and samples, and celebrity shoot-off;
Fitness and Healthy Lifestyles Pavilion featuring free total body workouts and fitness demonstrations, powered in part by Body Exclusive Fitness with Gerald "G-FIT" Brown, Joel Simmons of I Am BHAM Fitness Camp and Hot 107.7's 107 Days to Better Health, plus healthy eating segments and free smoothie sampling;
African Pride "Color of Your Dreams" Kids Lounge with free styling demonstrations, kid friendly activities, dream photo booth, and the "Color of Your Dreams" interactive coloring wall;
Health Screening Pavilion where attendees have access to free glucose (diabetes), sickle cell and AIDS/HIV testing;
A Special Gift courtesy of Hallmark Mahogany Cards will be provided to each guest;
Hourly giveaways including chances to win products, free concert tickets, and more!
The 2018 NHHE also