Dieters Win Over $10 Million for Losing Over 1 Million Pounds with HealthyWage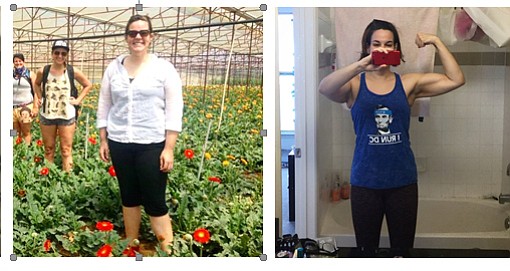 Diet Betting Boon: HealthyWage participants collectively lose over a staggering 1 million pounds and gain over $10,000,000 since company's inception, as over 1,000 health-seekers lose more than 100 pounds and more than 10,000 lose at least 50 pounds while 'dieting for dollars' – all exemplifying the power and efficacy of the company's weight wagering paradigm
Name: Whitney L. from Alexandria, VA
Winnings: $1,772 for losing 50 pounds in 12 months
Background: In addition to wanting to lose weight, Whitney was planning a trip to Iceland and was looking for ways to motivate weight loss and fund her trip.
Quote: "[HealthyWage is] going to pay me almost two thousand dollars to do something I should be doing already? That's a whole vacation!"
Name: Brooke and Matt Everhart (couple), High Point, NC
Winnings: Brooke and Mat Everhart won more than $4,000 for losing a combined 122 pounds (Brooke herself won $1,506.95 for losing 50 pounds in 9 months)
Background: The Everhart's debuted their new bodies on a trip to the Virgin Islands with family members, and used their winnings to spend an extra week there as a second honeymoon. "We played around with a few different diets and all the things you are told to do, like walking more, and nothing was working for us," Mat Everhart, 37, told ABC News. "We were both really frustrated." ... "This thing was sort of the catalyst for us," Mat Everhart said. "It literally made us put our money where our mouth was and find a way to motivate yourself because there was a tangible motivation."
Name: Christine H. from Huntington Beach, CA
Winnings: $2,896.06 for losing 60 pounds in 9 months
Background: After living in the UK for 6 years due to her husband's job, Christine and her family moved back to California in 2016. While in the UK, Christine struck up a strong friendship with several women who were also ex-pats (how they refer to themselves). Since Christine has moved back to the states, some of her fellow ex-pats have also moved, so they decided to create an annual girls trip. In need of travel funds and wanting to look and feel good when reunited with her friends, Christine signed up for a HealthyWager.
Quote: "I missed all my friends and they were planning on doing a reunion trip the first week of December. I couldn't afford it so I decided to make a [HealthyWager] bet...I had to win, I had to go to London and see my friends."
NEW YORK, NY, January 2018 – HealthyWage—the world's leading purveyor of corporate and team-based weight loss challenges and financially-induced diet contests for individuals, today announced extraordinary company milestones that further validate its innovative "weight-loss wagering" approach and underscores the enduring demand and efficacy of the "dieting for dollars" paradigm. For one, in 2017 the company's membership base grew more than 340% over the year prior, with more than 300,000 current program participants. For their weight-loss achievements that collectively exceeds an astounding 1 million pounds, HealthyWage has paid dieters over $10,000,000 cash since its inception in 2009.