Levy Park Conservancy Presents Into the Woods for Family Movie Night Mar. 30, Sponsored by Texas Children's Hospital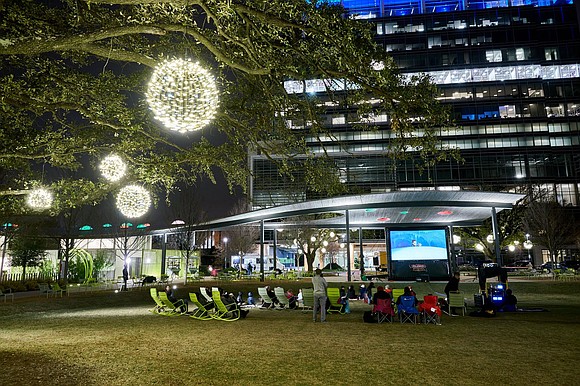 Come on out for some spring time fun on Mar. 30 to see the family-friendly 2014 Disney movie Into the Woods, sponsored by Texas Children's Hospital in conjunction with the Levy Park Conservancy. Into the Woods, based on the Stephen Sondheim Broadway musical, is a modern twist on several of the beloved Brothers Grimm fairy tales. The movie intertwines the plots of a few choice stories, exploring the consequences of the characters' wishes and quests. This humorous and heartfelt musical fantasy follows the classic tales of Cinderella, Little Red Riding Hood, Jack and the Beanstalk and Rapunzel. These are all tied together by an original story involving a baker and his wife, their wish to begin a family and their interaction with the witch, played by Meryl Streep, who has put a curse on them.
The Texas Children's Hospital-sponsored Movie Night is on the last Friday of each month. Guests are encouraged to come dressed as their favorite storybook character and are also invited to come out and play the piano in the Park from 4 p.m. – 6 p.m. No outside furniture is allowed, but blankets or park chairs can be used.
Levy Park
3801 Eastside St.
Houston, TX 77098
Friday, Mar. 30
7:30 p.m.
Guests can enjoy food and beverage service from The Purple Flour and Mico's Rolled Ice Cream food trucks. Choose from a variety of The Purple Flour's delicious pizzas with many different toppings, as well as tempting cake pops for dessert. And don't miss Mico's delicious Thai-influenced hand-rolled ice cream and waffle cones.
For more information about Levy Park events, visit levyparkhouston.org.