Trump's Decision to Meet with Kim Jong Un 'no surprise,' Tillerson Say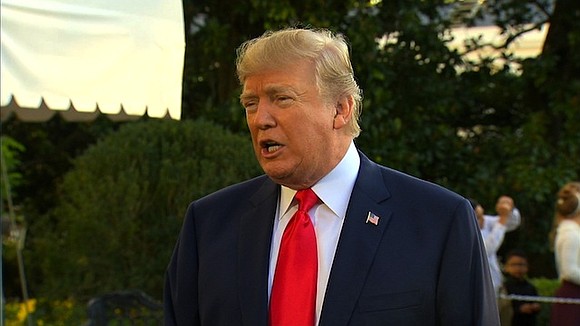 By Laura Smith-Spark and Euan McKirdy, CNN
(CNN) -- US President Donald Trump's decision to meet with North Korean leader Kim Jong Un "was not a surprise in any way," US Secretary of State Rex Tillerson said Friday, as the bombshell news was met with cautious optimism by China and US allies in the region.
Speaking to reporters in Djibouti, the latest stop on his week-long tour of Africa, Tillerson said it was "a decision the President took himself" after having the matter "on his mind for quite some time."
Tillerson's comments came after he was asked by a reporter why, less than a day prior, he had said that conditions were not yet ripe for talks with North Korea.
The meeting, announced by a South Korean delegation at the White House on Thursday night, would, if it goes ahead, mark an unmatched moment of history in the 70-year standoff between the US and the isolated state. It would be all the more remarkable given the history of insults, threats and challenges exchanged by the two leaders.
There's no word yet on who will attend the meeting -- the first between a sitting US President and a North Korean leader -- aside from Trump and Kim.
But the breakthrough brings the North Korean regime close to its long-desired aim of recognition on the international stage, and offers Trump the tantalizing prospect of a historic diplomatic victory, although the consequences of such a high-stakes gamble remain hard to predict.
US allies in the region have given a cautious welcome to the development while vowing to keep up intense diplomatic and economic pressure on North Korea.
Trump was expected to speak with Chinese President Xi Jinping soon about his decision to meet with Kim, according to a senior US official.
Earlier Friday, Geng Shuang, a spokesman at China's Ministry of Foreign Affairs, described the development as positive and said it was a moment to show "political courage." But he stressed that China would continue to maintain sanctions on North Korea until a political settlement was reached.
Japanese Prime Minister Shinzo Abe talked to Trump and Tillerson on the phone to reiterate the necessity of maintaining pressure on North Korea.
Abe, briefing reporters after the call, said that the US and Japan had agreed to "keep putting maximum pressure until North Korea takes concrete actions toward denuclearization."
Australian Foreign Minister Julie Bishop said her government welcomed "any dialogue with North Korea" but warned that "North Korea has a history of making agreements and then failing to honor them."
"The dialogue must ensure North Korea abides by numerous United Nations Security Council Resolutions banning its nuclear weapons and ballistic missile programs," she said.
No North Korean response
South Korea's President Moon described the announcement as "historic" and thanked both leaders for seeking a diplomatic solution to the denuclearization of the Korean Peninsula.
South Korea's national security adviser, Chung Eui-yong, who delivered the invitation to Trump in Washington after a visit by his delegation to Pyongyang earlier this week, was careful to praise Trump's influence over the developments. Chung said the US President's "leadership" and his administration's pressure on the North Korean regime had "brought us to this juncture."