Williams Sisters Meet in Indian Wells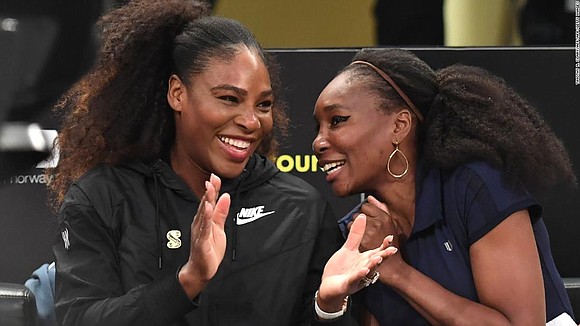 (CNN) -- Serena and Venus Williams won't be meeting in a grand slam Monday and their match won't be a final, either.
But when the siblings face off under the lights in Indian Wells, California, it will still be a hugely significant occasion for the Americans who have combined to win 30 majors and transcended tennis.
In the past, Indian Wells -- which is tennis' biggest tournament outside the majors -- has had special significance for the sisters following an incident in 2001, when Venus and dad Richard were booed by spectators as they went to their seats for the Indian Wells final.
Serena was facing Kim Clijsters and although she won, fans cheered her double fault early in the match and appeared to be behind the Belgian player.
Richard Williams told USA Today he suffered racial abuse and Venus would later say "she heard whatever he heard." Serena admitted that she cried in the locker room for "hours" after defeating Clijsters.
The fans' reaction in California came after Venus pulled out of her semifinal with Serena just before the tussle, citing a knee injury.
"I think Indian Wells disgraced America," said Richard Williams.
Charlie Pasarell, then the tournament director, said in the same USA Today story that he didn't discount Richard Williams was racially abused.
Serena subsequently stayed away from Indian Wells until 2015, while Venus didn't return until one year later.
Reflecting on her match with Venus that was never played at Indian Wells all those years ago, new mom Serena said Saturday: "I literally didn't even think about it. That's totally gone out of my mind. First of all, 17 years ago seems like forever ago. Yikes."
Barring any late surprises, the two will indeed square off for the 29th time Monday and Serena, now 36, did recall their first duel in Compton, the Los Angeles suburb about 130 miles west of Indian Wells where the siblings grew up.
"It was in juniors," said Serena. "I think I was, like, eight. She was 10. She beat me, beat me good. But she was really nice.
"She gave me the trophy because I was so upset. I have always been a sore loser, but she's been really amazing. I can really learn from her.
"We have so many great memories. My favorite match against her? I don't think I have a favorite match. I definitely don't have a favorite match. I really abhor every time we play, but I do enjoy the battle when I'm out there. It's just afterward I don't like it as much."
Close record
Few have handled Serena -- the record 23-time grand slam winner -- as well as Venus, as evidenced by their head-to-head record.
The sisters have often said the other tennis playing sibling is their toughest opponent. Serena leads 17-11 -- and has claimed five of their past six meetings. It will be their earliest match-up at a top-tier tournament since their first encounter, Venus downing Serena at the 1998 Australian Open in the second round.
But Indian Wells marks Serena's first tournament since beating Venus in the 2017 Australian Open final, having given birth to daughter Alexis Olympia last September and revealing to CNN she almost died afterward due to a pulmonary embolism that triggered complications.
She admitted to feeling rusty in her first two rounds against Zarina Diyas and Kiki Bertens but a wary Venus countered: "She's playing really well and just honing her game. When she's missing, it's not by much."
When Serena is missing some of those shots, she says she isn't being as harsh on herself as in the past with her daughter in mind.
"Olympia has tons of footage of me not being kind to myself. So I'm like, 'Okay, I need to not be so negative, even though it's hard," she said.
"Yeah, I have come so far. There were moments literally when I'm in the hospital bed and I just think about that. And I go, 'Serena, you're doing good, you're doing good no matter what. So I think that's helping me out, too.'"