Tiger Woods offers 'compelling' superhuman story, says PGA Tour chief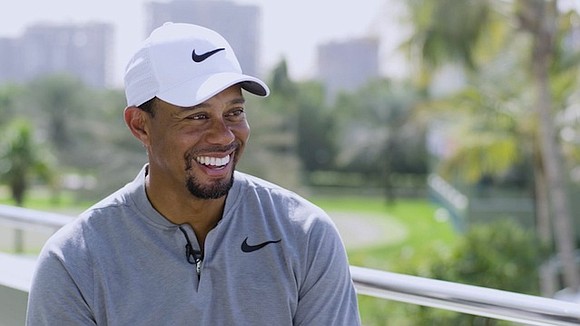 Rob Hodgetts and Don Riddell
(CNN) -- His comeback is compelling from a sporting perspective, but Tiger Woods' resurgence is like gold dust for golf's PGA Tour.
The 42-year-old defied spine-fusion surgery last April, the latest of four back operations, to finish within one shot of a playoff for a first victory since 2013 at last week's Valspar Championship in Florida.
It was a remarkable return to the top of the game by the former world No.1, who feared his career was over during "dark times" in his recuperation.
And it had fans and golf watchers gripped, with TV ratings for the weekend at record levels and social media abuzz.
"It's a story that the world is finding very compelling and ... that's what you want as a business," PGA Tour commissioner Jay Monahan told CNN.
READ: "YouTube star" is "loving life" and pain free ahead of return
Ratings success
TV broadcasters are also finding Woods' return to competitive form compelling viewing.
NBC Sports reported its third-round TV viewing figures on the Golf Channel were up 181% on the same day last year, while the final round drew a 5.11 overnight rating -- the highest audience outside the majors since the 2013 Players Championship, won by Woods.
It was also the highest non-Masters rating since the 2015 PGA Championship. The event also had 27.2 million minutes streamed across Golf Channel and NBC Sports digital platforms -- the most-streamed PGA Tour event ever for the network, it reported.
All that, despite the emergence in Woods' absence of exciting young stars such as Jordan Spieth and Justin Thomas.
"We have grown over the last few years as these new players have come forward, but nobody has produced more compelling television in sport over the last 20 years than Tiger Woods," added Monahan.
"Now he's reintroduced into the mix. I think it's clear that people are really interested to see how the Phils [Mickelson], how the Tigers, how they are going to perform against these great young players."
Earlier this month, Mickelson edged Thomas in a playoff at the WGC-Mexico Championship to earn his first victory since the 2013 British Open at Muirfield.
READ: Veteran Phil Mickelson ends title drought
READ: 20 years of Tiger, where it all went right -- and wrong
Significant injuries
Woods won the last of his 14 majors in 2008, and many had written him off as a credible major contender even if he recovered enough to resume playing on the Tour.
"It was a tough, tough road," Woods told CNN's Living Golf show in Dubai in February 2017 during a short-lived comeback. "There was a lot of dark times where I couldn't get out of bed, couldn't move, the pain was too great.
"Anyone who's ever had nerve pain in their back, they certainly understand what that feels like. I honestly didn't know this time last year, I didn't know if I'd ever play golf again."