Caught skateboarding at Parkland school, gunman's brother held on $500,000 bond on trespassing charge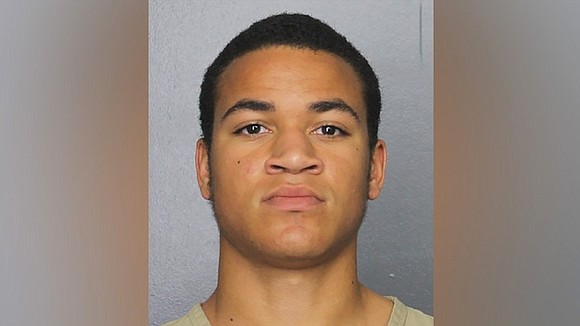 By Eliott C. McLaughlin and Rosa Flores, CNN
(CNN) -- A Florida judge set bond Tuesday at $500,000 for Zachary Cruz, the younger brother of Parkland school shooter Nikolas Cruz, for a misdemeanor trespassing charge, despite protestations from his defense attorney, who said his client was being punished for his brother's crime.
Appearing via video before the same judge and in the same courtroom as his brother had days earlier, Zachary Cruz stood shackled in a brown jumpsuit and sandals. He was surrounded by three deputies.
In an effort to secure a $750,000 bond and stiff restrictions on the younger Cruz's release, prosecutors reeled off theft and criminal mischief pleas from his juvenile record and said he acknowledged to deputies that his Monday visit to Marjory Stoneman Douglas High School was his third since his brother killed 17 people there on February 14.
The teen's attorney argued the bond for misdemeanor trespassing is typically $25.
Ultimately, the judge went with a $500,000 bond and ordered Cruz to wear an ankle monitor. He was also instructed to have no contact with Marjory Stoneman Douglas students or staff, to stay at least a mile away from the school and to have no contact with his brother.
Deputies will be allowed to search Cruz's home in Lantana for guns, the judge ruled, adding that the teen must submit to a psychological evaluation.
'Soak it in'
After Cruz's arrest Monday in Parkland, the 18-year-old told police he wanted to "reflect on the school shooting and soak it in," according to an arrest report. It said the teen had no ties to Broward County and that he "surpassed all locked doors and gates and proceeded to ride his skateboard through school grounds."
Broward Schools Superintendent Robert Runcie, however, told a local newspaper there was no security breach. Runcie did not return CNN calls seeking comment. A Broward County Public Schools spokeswoman directed questions to the sheriff's office, whose spokeswoman told CNN in an email she'd "look into that and get back to you."
The school intends to prosecute Zachary Cruz, the arrest report said, adding that the young man had received "prior warnings by school officials to refrain from entering the school campus." The arrest report did not elaborate on the warnings.
Cruz has been living in suburban Palm Beach County with Rocxanne Deschamps since he and his brother's adopted mother, Lynda Cruz, died in November.
Deschamps was in New York at the time of his arrest, according to prosecutors. Later, she appeared at a news conference in the city with celebrity attorney Gloria Allred. There, she told reporters that before the school massacre, she had repeatedly warned authorities about Nikolas Cruz's mental state and expressed concern that he was allowed to own guns.
'I don't want to be alive'
According to court documents from the Palm Beach County Sheriff's Office, Zachary twice spoke with police February 16, two days after the mass shooting. That morning, deputies spoke with Deschamps and Zachary Cruz about a tip authorities had received, the nature of which is redacted from the report.