Jorge Ricardo: The four-decade ride to a new world record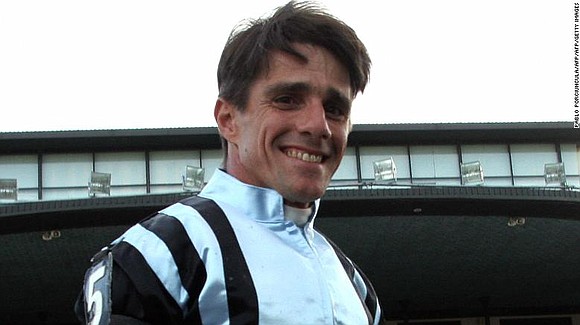 By Henry Young & Aly Vance, CNN
(CNN) -- He'd done it before on over 12,000 occasions, but this time was different and suddenly the tears were starting to flow.
Finally, after a race four decades in the making, Brazilian jockey Jorge Ricardo had eclipsed his long-time rival Russell Baze, making the world record for career victories his own.
"It is a dream and a goal fulfilled," Ricardo told CNN Winning Post. "I've wanted the world record for many years. I held it twice -- in 2009 and 2013 -- but due to illness and injury I lost it.
"Well, now I've won it back again. For me it is true happiness and the truth is, I feel very complete."
Ricardo's victory, aboard the aptly-named "Hope Glory" on February 7, was number 12,845 of a remarkable career that has seen him emerge from relative obscurity to claim global headlines.
Along the way he has overcome broken bones and a bout with cancer.
But even through the darkest days, the 56-year-old has never once considered walking away, once commenting "only death" could keep him for realizing his dream.
"It never crossed my mind not to ride again," Ricardo told CNN. "Both when I had the illness and the accident, I always had a positive attitude and I knew that I was going to run again."
A four-decade, cross-continental rivalry
Over 41 years on from his first win, secured at Brazil's Hippodrome de Gavea in the shadow of Christ the Redeemer, Ricardo says he has his fiercest rival to thank for his record breaking achievements.
It has been Baze, a Canadian jockey three years his senior, that has driven the boy from Rio de Janeiro to continue racing long after most would have retired.
Baze departed the circuit in 2016 on 12,844 victories, having frequently traded the record with his South American counterpart. No other jockey in the world has even accumulated 10,000, putting their dual-hemisphere contest on a plane of its own.
They've rarely met, still less on the racetrack, but their bond has transcended the miles between them.
"He is the man who inspired me to move forward," Ricardo told reporters having clinched the decisive number. "He is a great person without whom I would not have achieved what I achieved.
"I have respect for an incredible professional who is as much the owner of this record as I am."
South America's richest race
The numbers are staggering. Since starting riding as a 15-year-old apprentice under the tutelage of his father Antonio -- himself a former jockey -- Ricardo has spent nearly 15,000 days in the saddle.
With an estimated 70,000 appearances to his name, he was named Brazil's jockey of the year 26 years in succession, often winning over 400 races in a single season.
Rarely traveling abroad for the sport's most prestigious events, Ricardo has nonetheless won his continent's richest race, the Longines Gran Premio Latinoamericano, a record five times. No other jockey has done so on more than three occasions.