Prince Harry and Meghan Markle royal wedding: 9 ways to celebrate in style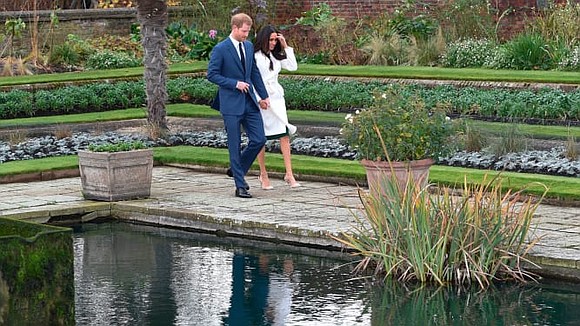 Chris Dwyer, CNN
(CNN) -- If you haven't received an invitation by now, the chances are there won't be a seat for you at St. George's Chapel at Britain's Windsor Castle on May 19.
Prince Harry and Meghan Markle's wedding is one of 2018's most highly-anticipated international events, but fortunately opportunities abound in the UK -- and further afield -- to get into the royal wedding mood.
From getting up close-ish on their brief processional route to having your own royal getaway, here are some options to allow you to say you were there -- at least in spirit.
1. Palace and castle hopping around the UK
The Stafford London couldn't be more appropriately located, just steps from St. James's Palace and Buckingham Palace.
In business since 1912, the elegant spot is a hidden gem with historical royal connections of its own and is still regularly frequented by members of the royal family.
Their five-night package includes an exclusive dinner at Kensington Palace, home to the young royals, a private visit to a stately home hosted by an Earl and dinner at the Tower of London.
On the big day, in conjunction with In Any Event tours, they can even secure a vantage point in Windsor from where you can see guests enter St. George's Chapel.
You'll also catch some of the wedding procession as the newlyweds travel through the town in a carriage, greeting the expected tens of thousands of well-wishers.
Handily you'll be served canapés, cocktails and a three-course lunch while viewing the ceremony.
What's more, they can even arrange an exclusive visit to the chapel, albeit after the wedding.
It doesn't get much closer than that.
The Stafford London, 16-18 St. James's Pl, St. James's, London SW1A 1NJ; +44 207 493 0111. The five-night package is $15,490 per person
2. A regal weekend retreat in the Cotswolds
A retreat fit for aspiring royalty is promised at the 90-acre Ellenborough Park in England's picturesque Cotswolds.
Pseudo-sovereigns arrive at the 15th century manor house in an elegant Rolls-Royce before checking into the Arkle Suite, which has a four-poster bed.
The two-night package includes experiences such as clay pigeon shooting, falconry and a trip to Sudeley, England's only private castle where a queen is buried in the grounds, namely Catherine Parr, Henry VIII's last wife.
On a slightly more upbeat note, you can also wander through the countryside to nearby Highgrove Gardens. If it sounds familiar, that's because it's the home of The Prince of Wales and The Duchess of Cornwall.
Prices for the royal package start from $2,778 per person, which includes return transfers from Heathrow Airport in a Rolls-Royce.
Ellenborough Park, Southam Road, Cheltenham GL52 3NJ; +441242 545454
3. 'Live like a Royal' in Edinburgh, Scotland
It may be around 650 kilometers from Windsor, but Edinburgh has no shortage of royal splendor of its own, and an offer from the city's Dunstane Houses allows you to take in all the highlights with their "Live like a Royal" jaunt.