Sacramento's police chief faces a test after his officers kill an unarmed, black father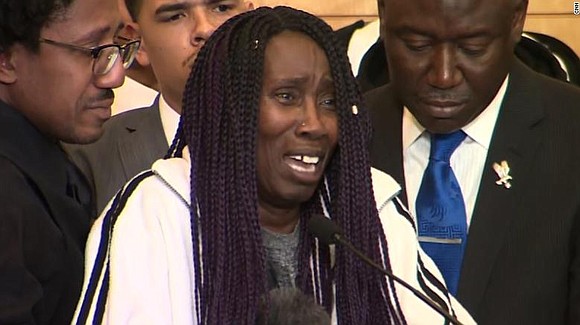 By Darran Simon, CNN
(CNN) -- Daniel Hahn's swearing-in ceremony last August as Sacramento's first African-American police chief was a celebration. A gospel choir sang the National Anthem. The crowd cheered after its native son pledged his oath.
Hahn was "our Barack Obama," said Ernie Daniels, a retired African-American police captain in Sacramento and a mentor of Hahn, who grew up in a historically working class and mostly black section of the Northern California city.
"Finally, we were able to get somebody that's from our community," Daniels, 68, said. "Everybody was so proud."
Now, Hahn, 49, who took the reins at a time of already strained relations between police and residents, finds himself facing the national glare following the fatal police shooting two weeks ago of Stephon Clark, 22, an unarmed black father of two who was gunned down by police in his grandmother's backyard. The deadly incident, unfolding against the simmering Black Lives Matter movement, was at least the third high-profile killing of a black man by Sacramento police in two years.
Protests against Clark's killing harked back to those two cases, which spawned demonstrations when the Sacramento County District Attorney's Office concluded that officers' actions were justified.
When Hahn was sworn in, he said he wanted everyone to be able to trust his department, which serves a city of almost half a million people, only about 13% of whom are black. Hahn acknowledged that some people were frustrated with law enforcement, a feeling largely rooted in lack of trust and a belief police did not care about them.
It's time to have hard conversations "to ensure that every corner of our city feels valued," he said at the time.
In the wake of Clark's killing, Hahn echoed that notion, even as his own -- and his department's -- response in the case continues to come under scrutiny.
"Any time this city is hurting, I'm hurting," Hahn told CNN affiliate KOVR. "My goal is to make sure that we are a healthy community, that we trust each other and that we move forward in a healthy manner and continue to get better."
Shooting stokes new suspicion
The officers who shot Clark were responding to a report that a man who'd broken car windows was hiding in a backyard, police have said. They shot Clark because they believed he was pointing a gun at them, police have said, but investigators only found a cell phone near his body. Two officers -- one of whom is black -- have been placed on administrative leave amid a use-of-force investigation.
Angry protesters took to Sacramento's streets twice last week, blocking an interstate and the entrance to an arena during an NBA game.
Police released footage of Clark's shooting 72 hours after it happened, and Hahn said authorities must continue to gather facts and conduct a thorough investigation.
In the footage, someone can be heard telling officers to mute their body cameras. The comment comes about seven minutes after Clark was shot 20 times -- and it has not sit well with the community.