Documents reveal Ivanka Trump followed ethics advice in promoting her book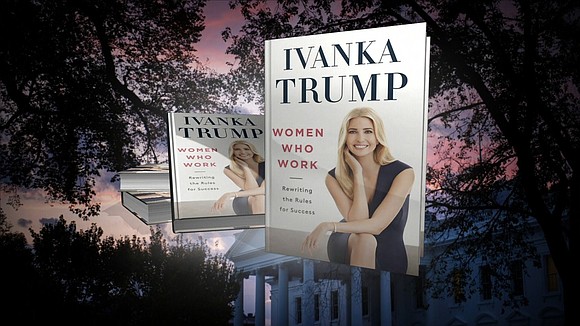 By Aaron Cooper, CNN
(CNN) -- Government ethics lawyers advised Ivanka Trump to make sure and keep her White House role separate as she planned to promote her new book, according to internal government emails.
"Women Who Work: Rewriting the Rules for Success" was published May 2, 2017, after Ivanka Trump started advising her father at the White House.
Emails released Tuesday following a CNN Freedom of Information Act request show conversations between Ivanka Trump's private attorney and the Office of Government Ethics that polices the White House.
It's not clear from the emails who first raised questions about the book, but the exchanges in the weeks before publication detail everything from rewriting Ivanka Trump's Twitter bio to how she should respond to press questions.
Walter Shaub, then the head of the Office of Government Ethics, suggested she have a "simple, rehearsed answer that she can use when asked about her book during official appearances," according to the emails.
"The book is a personal project and I'm very proud of it, but I am not going to discuss it now because of government ethics rules," Blake Roberts, Ivanka Trump's personal attorney, suggested she say.
Ivanka Trump was allowed to promote the book on her personal social media, so long as it was clearly identified as a personal account and followed other government social media rules. Shaub also suggested not posting during ordinary business hours as "an extra precaution."
Roberts emailed a snapshot of his client's updated Instagram, Facebook and Twitter profile to Shaub on April 20, 2017, and thanked him for the guidance.
"Wife, mother, sister, daughter. Entrepreneur & advocate for the education & empowerment of women & girls. This is my personal page. Views expressed are my own," the legally reviewed Twitter profile said, according to the emails.
The bio remained on Ivanka Trump's Twitter page for the next eight months until it was revised to include her White House position.
The detailed legal correspondence with the Office of Government Ethics came about two months after President Donald Trump's adviser Kellyanne Conway was "counseled" for using her White House position to promote Ivanka Trump's fashion brand after it was dropped by department store chain Nordstrom.
"Go buy Ivanka's stuff, is what I would tell you," Conway said in a Fox News interview. "It's a wonderful line. I own some of it. I fully -- I'm going to just, I'm going to give a free commercial here: Go buy it today, everybody. You can find it online."
In the emails about Ivanka Trump's book, the ethics office allowed her to send copies to journalists and other contacts with personal notes enclosed, as long as she used personal stationary and did not invoke her government role.
Her lawyers said she would not make appearances to promote the book, but would issue a press release on her personal or publisher's letterhead saying she would donate the profits to charity.