Tempers continue to flare in Sacramento days after shooting of black father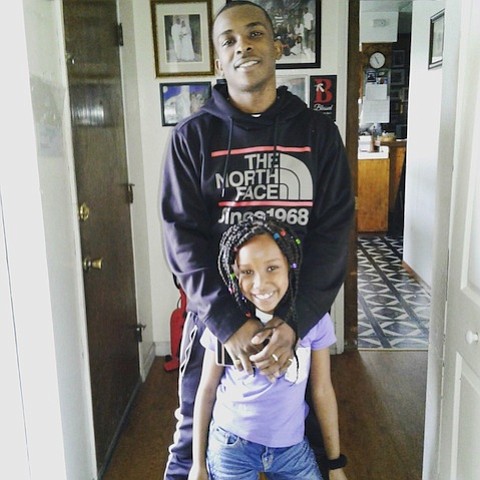 By Ray Sanchez, CNN
(CNN) -- Tempers and emotions flared in Sacramento on Tuesday as the brother of an unarmed black man killed by police interrupted a City Council meeting and protesters again blocked the entrance to an NBA arena nearby.
The doors of the Golden 1 Center, where the Sacramento Kings play, closed as protesters arrived, preventing some fans from getting in. But the game went off as scheduled.
Last week, protesters upset over the fatal shooting of Stephon Clark, blocked the arena entrance, forcing the Kings and Atlanta Hawks to play in a nearby empty arena.
The emotional council meeting and protests illustrated how the fatal shooting more than a week ago has sparked anger and caused pain in this Northern California city. Frustrated residents and Black Lives Matter activists at the meeting urged accountability for the shooting.
"Stephon Clark. Stephon Clark," Clark's brother, Stevante Clark and others chanted in the first council meeting since the fatal shooting on March 18.
"Louder. Louder," said Stevante Clark, who hopped on the dais before the council took a brief recess.
Standing in front of the council chambers with others, Stevante Clark said: "The mayor and the city of Sacramento has failed all of you," citing high rent, gang violence and poverty in the city.
"The chief of police got my brother killed. He doesn't care. He shows no emotion at all. And y'all get mad at me for not crying on the news," he said.
Clark, 22, was shot and killed in his grandmother's Sacramento backyard by officers who believed he was pointing a gun at them, according to police.
No weapon was found at the scene. The only item discovered was a cellphone, police said.
At the council meeting, activist Berry Accius asked everyone to stand up and hold up their cellphones, directing it to the council members.
"Does this look like a gun to you?" he said.
"We are at our moment Sacramento and we, Sacramento, must change Sacramento together," Accius said.
Mayor Darrell Steinberg ended the council meeting Tuesday night, two-and-a-half hours earlier than planned.
'Our city is at a critical point'
Hours earlier, citing the "extremely high emotions, anger and hurt" in Sacramento after Clark's death, police Chief Daniel Hahn said that California Attorney General Xavier Becerra will hold an independent investigation.
Hahn, surrounded by community leaders at a news conference, called last week's shooting "a tragedy that no one wants to see or experience" and said he requested the oversight of state prosecutors even though he was confident in the impartiality of his detectives.
"Due to the nature of this investigation, extremely high emotions, anger and hurt, I felt it was in the best interest of our entire community to ask the attorney general to be an independent part of the investigation," Hahn said.
Officers fired 20 shots, hitting Clark multiple times, police told CNN affiliate KOVR.
"Our city is at a critical point right now and I believe this will help build faith and confidence in the investigation from our community," Hahn said.