Three Australian cricketers handed lengthy bans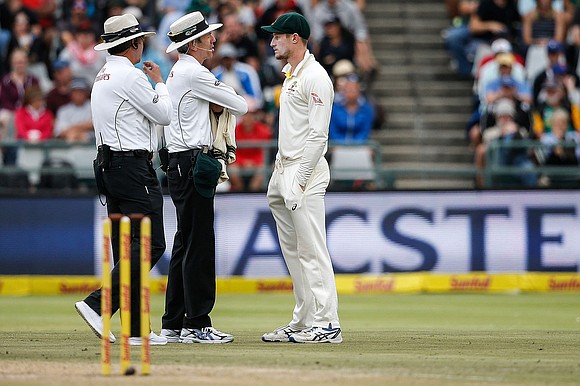 By CNN Staff
(CNN) -- Australian cricket has handed three of its leading cricketers lengthy bans in an attempt to restore "integrity" and rebuild the reputation of the sport in Australia.
Captain Steve Smith and vice captain David Warner have been banned from playing for the national side for a year, following Cricket Australia's investigation into the ball tampering scandal that caused national outrage during the third Test against South Africa.
Cameron Bancroft, who was caught by TV cameras using yellow tape to change the ball's performance has also been suspended -- for nine months.
Along with the suspensions, both Smith and Bancroft will not be considered for any leadership positions until after 12 months and Warner will "not be considered for team leadership positions in the future" Cricket Australia said in a statement.
"Any consideration of future leadership would be conditional on acceptance by fans and the public, form and authority among the playing group"
All three players will also have to complete 100 hours of voluntary service in community cricket before being considered for future selection, however they "will be permitted to play club cricket and will be encouraged to do so to maintain links with the cricket community," Cricket Australia added.
David Peever, the chairman of Cricket Australia Chairman, said the board "shares the anger of fans and the broader Australian community about these events."
"They go to the integrity and reputation of Australian Cricket and Australian sport and the penalties must reflect that.
"These are significant penalties for professional players and the Board does not impose them lightly. It is hoped that following a period of suspension, the players will be able to return to playing the game they love and eventually rebuild their careers."
Cricket Australia CEO James Sutherland also added that details of an independent review into the conduct and culture of the men's cricket team will also be shared in "due course."
Watershed moment for Cricket Australia
The punishment follows Cricket Australia's investigation into Smith's involvement in the ball-tampering scandal that caused national outrage during the third test against South Africa.
Earlier Cricket Australia announced that Smith, Warner and Bancroft were being sent home from Johannesburg and replaced by three other players for the fourth Test.
John Buchanan, a former coach for the Australian team between 1999 to 2007, told CNN Sport that Cricket Australia were facing a watershed moment.
"There's a feeling in Australia this isn't just a one off incident. It's been building over a long period of time and the culture between the team really needs to be addressed really seriously.
"What comes next will be a real test for Cricket Australia with how they deal with this issue."
A preliminary investigation into the incident found that all three players had breached article 2.3.5 of Cricket Australia's Code of Conduct, for conduct contrary to the spirit of the game.
'No other players or support staff had prior knowledge'
On Saturday, Smith and Bancroft admitted during a post-match press conference that they'd conspired to scuff the ball in an attempt to gain an unfair advantage over South Africa on the pitch.