Houston's Arts and Culture Community gets over $40,000 Boost from Harvey Arts Recovery Fund Grants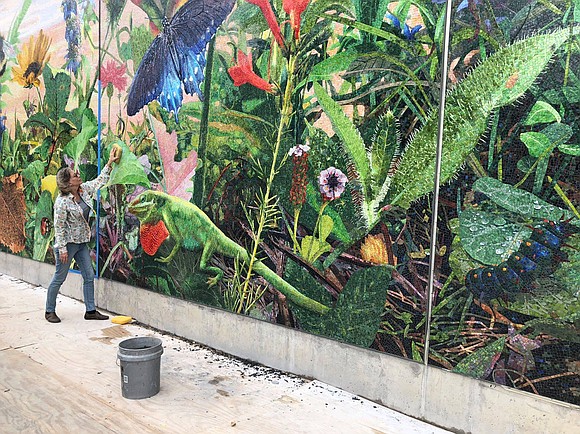 Houston, TX, March 29, 2018- In their second round of funding, the Harvey Arts Recovery Fund (HARF) awarded more than $40,000 in disaster assistance to local artists and arts, heritage and cultural organizations who were impacted by Hurricane Harvey. This second round of funding has empowered the Houston arts community to recover from damage to their property and livelihoods. Funds have already been used to counter the negative effects of lost tools, damaged property, disrupted profits and more for artists and arts and cultural nonprofits in the Greater Houston Area/Region.
Multiple organizations collaborated in the creation of HARF to sustain and aid the Houston arts and cultural sector during Hurricane Harvey. The first round of funds raised with the help of local nonprofits, donations through the online advocacy platform www.harveyartsrecovery.org and seed money from the Houston Endowment went out to creatives within a 10-county region including Harris, Fort Bend, Montgomery, Brazoria, Galveston, Liberty, Waller, Chambers, Austin and San Jacinto. The second round was announced not long after to further support the immediate needs of the arts community.
"When Harvey struck and we had to cancel our regular performing arts education programming, we lost income for two of our after-school programs," said Alexandria Hodge of HITS Theatre. "These funds from HARF will provide scholarships so that students impacted by Harvey can participate in our programming and help us create additional programming for students who don't have access to arts in their schools."
Applicants to the second round of HARF funding reported staggering need, with 92% reporting losses for opportunities to teach, perform or show their work and 68% confirming a loss of necessary tools or equipment to make their art. Half of all applicants also reported physical damage to their studio, which they are legally responsible for repairing, and lost inventory that they intended to sell. For artists who lost inventory, 44% lost a quarter to half of their prepared inventory and 13% lost everything with a financial burden ranging up to $10,000.
Taken together, these numbers make it clear how pressing a need there is to ensure the arts continue to prosper in Houston. Artists and arts organizations are particularly vulnerable to natural disasters, as the nature of the profession incurs a higher amount of individual financial risk. Many would not survive serious damage to their property or disruption in their ability to create art, which is why HARF grants are currently being used for varied purposes such as repairs to buildings and exhibitions, conservation and replacement of everything from costumes to music scores.
Grant recipients were chosen based on a thorough application process complete with review of how they they were impacted by flooding following the hurricane and consideration of their unique financial needs. Organizations awarded include Main Street Theater, Czech Center Museum Houston, Folklore Films, The Catastrophic Theatre, MECA (Multicultural Education and Counseling through the Arts), Classical Theatre Company, Dance of Asian America, HITS Theatre, The Mercury Baroque Ensemble, Lake Houston Area Artists, Youth Singers of the Bay Area and Cypress Creek Christian Community Center.