Allen Maldonado on The Last O.G., SuperFly and Giving Back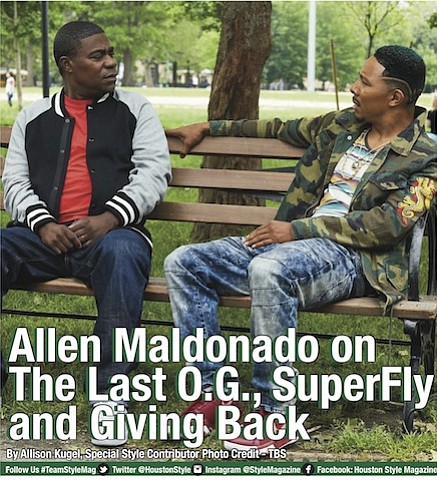 From playing Curtis for two seasons on ABC's megahit, Black-ish to starring alongside Tracy Morgan and Tiffany Haddish in the TBS hit series, The Last O.G., multi-hyphenate actor-writer-entrepreneur, Allen Maldonado, is a modern-day renaissance man. He's the ideal fit for the role of Cousin Bobby, Tracy Morgan's instigating but well-meaning sidekick. The Last O.G., created by Oscar winning filmmaker, Jordan Peele, is part of a 2018 wave of #blackexcellence sweeping Hollywood.
The show's irreverent humor is inspired, thought provoking, and hilarious, as it manages to tackle the issues of post-incarceration societal re-entry, fatherhood and the gentrification of Brooklyn, New York.
Maldonado's character, Cousin Bobby, attempts to help Tracy Morgan's character "Tray" in his quest to turn his life around and put his family back together. YouTube and Instagram videos aside, I couldn't remember the last time I laughed out loud at my screen. Allen Maldonado's comedic genius lies in the art of setting up the joke. Allen sets them up, and Tracy Morgan drops the hammer on the punchline. Morgan and Maldonado are a classic comedic team in the making.
Allison Kugel: What has working alongside Tracy Morgan on The Last O.G. taught you about great comedy?
Allen Maldonado: I love being observant, taking in my surroundings and my audience, and being able to improvise at the drop of a hat. Anybody who has ever watched Tracy work knows he is very spontaneous and raw. He says what's on his mind. Coming from other people, some of it might be construed as inappropriate, but that's what makes Tracy so special. He can say things that, if someone else said it, it might be seen in a negative light. But when he says it, it's hilarious. Being in that type of space where you can make people laugh in that way, that's what I've learned from working with Tracy.
Allison Kugel: Jordan Peele is the creator of this show and he covers so many issues, while making people laugh. The Last O.G. examines the concept of getting a second chance after being incarcerated, the gentrification of Brooklyn, and the importance of fatherhood. Beyond the laughs, what is The Last O.G. communicating to its audience?
Allen Maldonado: It's about second chances at life as Tracy's character is released from prison after serving fifteen years, second chances with his family, including my character Cousin Bobby, and with his children. And a second chance with the woman that he let down before going to prison (played by Tiffany Haddish). It's not so much about building a relationship with her based on the past, but about building that relationship for the future and co-parenting his kids with her. What makes this show special is that we have a lot of dramatic tones because of the subject matter. TV audiences go in with the assumption that this show is a sitcom, but I've heard people say many times that the show is a lot deeper than they thought it would be. Same as in real life; there are things that are fall out of your chair funny, and other things that will make you fall out of your chair from crying. We have a perfect balance of that in our show.