Congresswoman Maxine Waters to provide congratulatory, prolific remarks to TSU LAW Juris Doctor candidates, Fri, May 11th, 6:30pm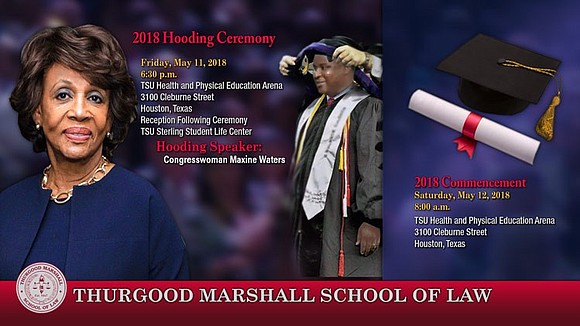 The prolific, Congresswoman Maxine Waters (43rd Cong. District, California) to wow TSU Law Juris Doctor candidates, university community and guests as key note speaker.
Texas Southern University Thurgood Marshall School 2018 Hooding Ceremony
EVENT: 2018 Hooding Ceremony, TSU Thurgood Marshall School of Law (TMSL)
DATE: Friday, May 11
TIME: 6:30 p.m.
PLACE: Texas Southern University
Health and Physical Education Arena (intersection of Ennis and Blodgett)
3100 Cleburne Street, Houston, TX 77004