Camp Kammok Elevates Camping With Annual Retreat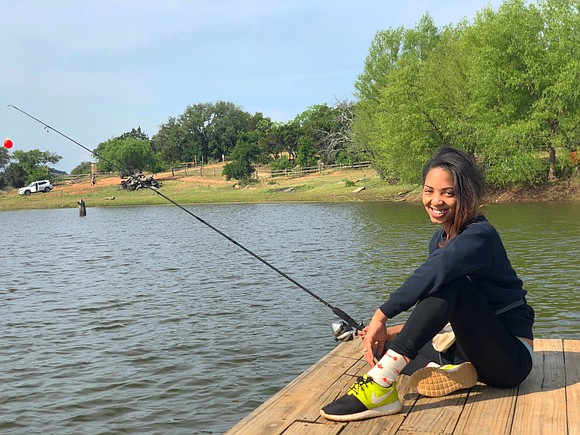 While some live for camping, it's just not for everyone. From unpredictable weather conditions to various bugs and critters, some people simply prefer the comforts of home versus the great outdoors. Well, I love a good adventure, so I jumped at the chance to cover Camp Kammok, making the trek to Burnet, Texas in search of Reveille Peak Ranch.
Boasting thousands of trails, Camp Kammok promised a 2-night elevated experience; complete with activities including mountain biking, paddle boarding, yoga at sunrise and more. Roughly a four hour drive from Houston, after carefully driving through a lot of small towns I was finally there, arriving just as campers were retiring to their hammocks and tents for the night.
To be honest I was slightly skeptical - I've camped in a cabin, tent and even a sleeping bag under the stars, but I'd never slept outside in a hammock before. Wondering whether mosquitoes or a serial killer would reach me first, instead, I was greeted by a large, well-lit pavilion right on the water; surrounded by acres of land that included ample camping space, obstacle courses, and well-kept showers.
I was also greeted by a crew of friendly staff members, who after realizing that I didn't actually know how to set-up a hammock or a tent (don't judge me), graciously secured a place for me right on the water as I got ready to call it a night. Unsure of what to expect, I carefully climbed into my hammock and was immediately surprised to discover just how comfortable it was.
To be clear, this isn't your traditional backyard hammock, oh no. Lightweight yet durable, I was soon comfortable and snug inside of the hammock provided by Kammok. Comprised of climbers, cyclists, designers, journalists and business leaders, as a company Kammok prides itself on providing quality gear and camping experiences off the ground, and they didn't disappoint. While I'm unfamiliar with the ins and outs of camping gear, all I know is that their Dragonfly insect net kept me free from mosquitoes all weekend long; a major accomplishment for someone that usually gets bit while sitting in the living room.
On my first morning, I woke up to the sun rising over the water, as fellow campers began making their way to the pavilion for morning yoga and breakfast. After securing my coffee, my number one goal each morning, I was eager to kick the day off with activities; signing up for rappelling, paddle boarding, and rock climbing.
Telling myself that rappelling couldn't be too different from zip lining, which I love, I was soon climbing a four-story tower with a group of strangers as I talked myself into literally jumping out the window and rappelling down. Each activity comes with a crew of professionals, and they did an amazing job of making sure that we were safe and secured in our climbing gear.
Next, it was time to paddleboard, which was also something I'd never done before. I'll be honest, I'm not the greatest swimmer, but I was armed with a life jacket and a desire not to get my hair wet. Following the lead of my guide - who was also the founder of the popular Austin based brand, Jarvis Boards - once I was able to center myself on the board I was happily floating down the river. Trying not to fall and Milly Rock (a popular dance) at the same time. That takes skill.