The Temptations' Otis Williams Talks Michael Jackson, Smokey Robinson & Berry Gordy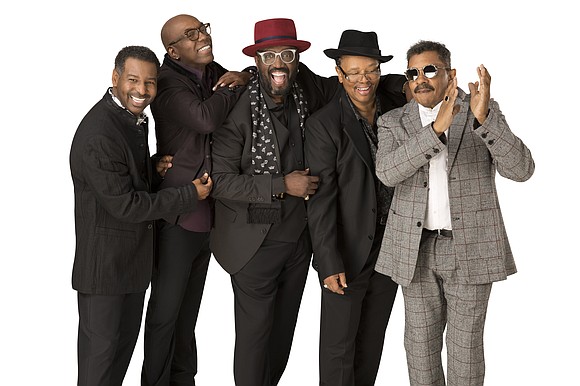 Since signing with Berry Gordy's Motown Records in 1961, the legendary Temptations have gone through many incarnations in their more than fifty years making music. From fledgling singers riding the early wave of Motown's signature hybrid Rock n' Roll/R&B sound, to becoming international hitmakers and now mainstays of American culture. That Motown sound, including The Temptations' greatest hits, have become a universally celebrated comfort food for the soul. Who hasn't hummed along with the classics My Girl, The Way You Do The Things You Do, Ain't Too Proud To Beg, Get Ready, Papa Was a Rollin' Stone and Just My Imagination?
With nine Grammy nominations, four Grammy wins, and a 2013 Recording Academy Lifetime Achievement Award, the group is still bringing Tempts magic to worldwide audiences, with what founding member, Otis Williams, says is the group's strongest lineup in two decades.
Their new album, All The Time, covers Sam Smith's "Stay With Me," The Weeknd's "Earned It," originally recorded for Fifty Shades of Grey, Ed Sheeran's "Thinking Out Loud" and Michael Jackson's "Remember The Time." New original songs on the album include "Waitin' On You," "Be My Wife," and "Move Them Britches." The digital album's two bonus tracks include a 'Gospel Mix' of their rendition of Sam Smith's "Stay With Me" and a special 'Heathens Mix' for "Move Them Britches." Every note on the new album is infused with that yearning, soulful, seamlessly harmonized blend The Temptations are celebrated for.
I had a chance to sit down with Temptations' founder and last surviving original member, Otis Williams, to discuss the group's first studio album in eight years, All The Time, and their upcoming tour throughout the U.S. and UK. We talked about his relationships with fellow Motown alumni including the late Michael Jackson, Smokey Robinson and Berry Gordy.
Williams is humbled by his five-decades long success in the music industry, but not unaware of the indelible impact he and his bandmates have had on music, the entertainment industry and popular culture.
Allison Kugel: Tell me about the most significant benchmark events in your life; the events that shaped your destiny…
Otis Williams: First would have to be my two grandmothers. I was raised by my grandmother on my mother's side and my grandmother on my father's side. They instilled in me a lot of great qualities that I carry with me through present day. Naturally, my mother's influence, and then the other thing is timing. Timing can be the most important thing in our lives, for good or bad. The good thing about my timing is that I was brought to Detroit from Texarkana when I was growing up and being in Detroit when Berry [Gordy] started Motown. Detroit is always known for being the town of the Big Four: Chrysler, General Motors, Ford and Motown. And of course, being aligned with some great guys, speaking first and foremost of the original Tempts lineup. It was David, Eddie, Paul, Melvin and myself. When I stop and think back on that time in my life, I didn't know that we would reach such heights and enjoy such a wonderful and exciting adventure. My career has been so illustrious that it's hard to pinpoint just one moment.