A royal skeptic meets Americans obsessed with Harry and Meghan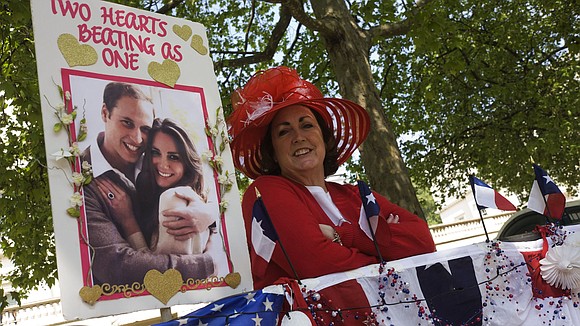 By Moni Basu, CNN
(CNN) -- On a Monday afternoon, the Pig and Whistle begins filling up before it's officially quitting time. Happy Hour starts every day at 4 p.m. and the bartender is pouring pint after pint of Fuller's and Guinness.
The walls are plastered with posters, photos and prized possessions of the owner. There's a Crystal Palace Football Club of San Francisco (who knew?) and pictures of the Pig and Whistle cricket club as well as vintage prints of Indian soldiers who fought in colonial British regiments like the Madras Foot Artillery.
Steve Anderson arrived from London decades ago and fell in love with San Francisco so much that he never returned to the Olde Country. He opened this pub in 1991 and since then it has become a beloved place for British expats, of course, but also for neighborhood folks in search of a cold brew and hot fish and chips.
But I am here neither for the quaint atmosphere nor the Fuller's. Curiosity drew me here, specifically about an upcoming event that is, like this pub, decidedly British and yet, equally fascinating for Americans: The royal wedding.
Prince Harry and Meghan Markle have graced almost every tabloid and magazine cover I've seen recently in supermarket checkout lines. There have been endless stories about their romance.
America's decades-long fascination
Before them, it was William and Kate -- nearly 23 million people in the United States watched that wedding. And before that, it was Charles and Diana. In 1981, roughly 17 million Americans tuned into watch Diana arrive in a glass coach and walk down the aisle at Westminster Abbey in an ivory-silk gown with 10,000 pearls and a 25-foot train. In 1997, another 33 million turned on their TVs for Diana's funeral.
Then there are countless books, movies and television shows, including Showtime's highly successful "The Tudors" and Netflix's "The Crown," which tracks the ascension to power of Queen Elizabeth II.
And, I know of Americans who are planning to spend thousands of dollars to jet across the pond and camp out for days to catch a glimpse of Harry and Meghan. Oh, just to be in their presence.
As I sit down to speak with pub owner Anderson, I think of what then-President Barack Obama said at his White House meeting with Charles: "I think it's fair to say that the American people are quite fond of the royal family. They like them much better than they like their own politicians."
Why are millions of Americans enraptured with the British monarchy? They are not, after all, our kings or queens, princes and princesses. Wasn't George III a reason why we fought the Revolutionary War? We gave blood to be free of the British monarchy.
Even some Brits don't care much for royalty in this day and age.
"I'm not a massive fan of the royals," Anderson admits.
Neither am I.
Understanding the fairy tale