What we know -- and don't know -- about Melania Trump's procedure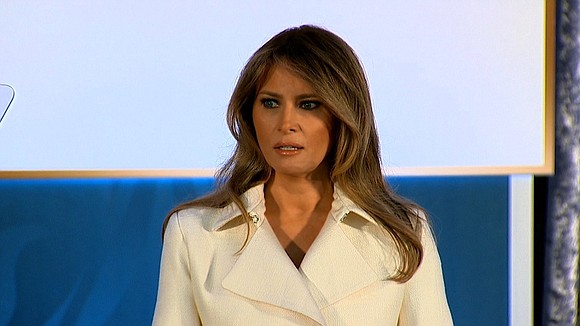 By Susan Scutti, CNN
(CNN) -- President Donald Trump tweeted early Tuesday that first lady Melania Trump "is doing really well" and will leave the hospital in "2 or 3 days" following a procedure on Monday.
Before her admission to the hospital, the first lady did not divulge the details of her medical condition, while her office declined to offer more details. Here's what is known about her hospitalization.
What happened?
Trump underwent an embolization procedure on Monday morning to treat a benign kidney condition, according to a White House statement.
The first lady was treated at Walter Reed National Military Medical Center in Bethesda, Maryland. "Out of respect for patient privacy, Walter Reed Bethesda does not release information on any patient who receives care at our Medical Center," spokeswoman Khadijah Givs said.
What is embolization?
Embolization, a procedure pioneered by interventional radiologists, can be used to stop bleeding or to starve a fibroid or tumor of its blood supply.
"We thread a tiny little plastic tube into the artery going to the tumor and then block up the blood flow going to that tumor so that it dies and shrinks and decreases its symptoms," said Dr. Victoria Marx, president of the Society of Interventional Radiology and an interventional radiologist at Keck Medicine of USC. Marx was not involved in Trump's treatment.
The White House has not said the procedure on Trump was to treat a tumor.
"Embolization is a very unusual word, and this is kind of new to the lay public," Marx said, adding that it is often used to treat uterine fibroids in women and increasingly used to treat benign prostatic hypertrophy in men.
"Embolization is something that interventional radiologists are uniquely trained to do. It is minimally invasive, image-guided, generally has a short recovery time and especially in the kidney preserves the rest of renal function -- does not put the rest of the kidney at risk.
"It allows us to treat a bad problem with very little evidence on the outside that we did anything."
According to Dr. Mohamad Allaf, vice chairman of urology at Johns Hopkins School of Medicine, embolization is "serious but not surgery."
Why did the first lady need the procedure?
It is unclear why an embolization was necessary. The White House statement simply refers to "a benign kidney condition."
Though embolization may be used for a variety of kidney conditions, "the most common" is angiomyolipoma -- "basically a benign growth of the kidney that has some fat in it and some cystic components," said Dr. Jamin Brahmbhatt, urologist at Orlando Health in Florida. Benign means non-cancerous.
He cautioned that though he has knowledge of the procedure, he lacks knowledge of the first lady's health, so his guess is "mere speculation." Brahmbhatt added that benign lesions -- abnormal changes in a tissue or organ -- are also embolized, but they happen less frequently than angiomyolipoma.
According to Marx, this form of benign tumor is "the most common benign condition treated with embolization in the kidney." She added that abnormal blood vessels, though less common, are also treated with embolization.